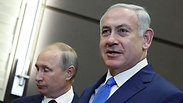 Putin (L) and Netanyahu
Photo: MCT
Netanyahu speaks to Putin on dangers of Iran in Syria
PM Netanyahu and Russian Pres. Putin speak on Tuesday for half an hour, as Netanyahu warns against Iran's attempts to establish itself in Syria; their conversation is part of Putin's round of talks with world leaders, in addition to meeting with Syrian Pres. Assad Tuesday.
Prime Minister Benjamin Netanyahu and Russian President Vladimir Putin spoke on the phone Tuesday for half an hour. The Prime Minister's Office said that the phone conversation dealt with Syria and Iran's attempts to establish itself in Syrian territory, with the PMO stating that "Prime Minister Netanyahu insisted on Israel's security principles."

The conversation between both leaders was part of a round of talks Putin has been holding with world leaders. Earlier in the evening, the White House announced that US President Donald Trump and his Russian counterpart talked for an hour on the phone, discussing events in Syria, Ukraine, Iran, North Korea and Afghanistan. Putin also spoke with Saudi King Salman bin Abdulaziz Al Saud.




Putin met with Syrian President Bashar al-Assad on Tuesday at the Black Sea resort of Sochi.

Assad, who arrived at Sochi on Monday, was photographed warmly embracing his Russian counterpart, almost resting his head on the Putin's shoulder.

Later, Assad thanked Putin and Russia's top brass for their "sacrifices" and efforts made to "save our country." He added that Damascus is interested in moving forward with a political process after the "victory over the terrorists."

Despite mentioning that his military campaign against the Islamic State group in Syria is wrapping up, Putin gave no indication that Russia would scale down its military presence in Syria—something Moscow is unlikely to do.

Without Russia's support and heavy airpower, Assad would likely still be battling for political survival, or would have already been possibly deposed.