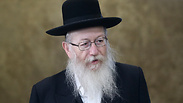 Minister of Health Litzman
Photo: Alex Kolomoisky
Shabbat crisis splits Haredi parties
With Minister of Health Litzman threatening to quit gov't over Shabbat railway works, fellow Haredi politicians Deri, Gafni incensed with prospect of being forced to follow suit against their will; Deri, Gafni both consider railway work to be minor issue, prefer to focus on broader strategy combating Shabbat commerce, Haredi IDF conscription.
The crisis within coalition parties surrounding work carried out by Israel Railways on Shabbat uncovered a split within the coalition's ultra-Orthodox parties, as Shas Chairman Minister Aryeh Deri was furious with United Torah Judaism Chairman Minister Yaakov Litzman, who threatened to resign should the "Shabbat desecration" continue.

Opposition to Litzman also came from the ranks of his own party, with MK Moshe Gafni objecting to his party leader's declaration of war against Prime Minister Benjamin Netanyahu.

According to both Deri and Gafni, a wider move should be spearheaded to protect the Jewish day of rest, in both legislation and government decisions. They are of the opinion that bowing out of the coalition now, due to specific railway works, will scuttle any chances of that happening.

This intra-Haredi split marked a rare occasion of the government's religious parties not joining forces or, at the very least, coordinating positions on issues pertaining to religion and state.

The Shabbat crisis once again was brought to bear Wednesday, a week after Litzman's ultimatum to Netanyahu, with the minister of health saying he would resign if works did not cease.

Sources within the Haredi parties said Wednesday they received notice of Israel Railways announcing upkeep works were once again planned for this coming Saturday. They further claimed the national rail company told them works were only performed four times a year and could not be postponed.

Heads of the Haredi parties met with Prime Minister Netanyahu and Minister Yariv Levin Wednesday. At the meeting's conclusion, the Prime Minister's Office announced that "it was agreed that every effort will be taken to reach a solution safeguarding Shabbat while not harming the general public."

At the top of Deri and Gafni's priorities is now the supermarket law, which endeavors to bypass the High Court's ruling allowing Shabbat commerce in Tel Aviv. The pair said they had already reached an understanding with the prime minister on their proposal being approved in the ministerial legislation committee this coming Sunday.

Shas and United Torah Judaism have been hard at work, meanwhile, to change the country's policy on hours of work and rest enforcement in a manner forcing business owners to close up shop regardless of their city's bylaws.

The two-pronged Haredi tactic belies a wider stratagem laid down as a goal for the Knesset's winter session: to approve a new draft bill ensuring yeshiva students will be exempted from army service, replacing the law struck down by the High Court.

Deri and Gafni both believe Shabbat desecration caused by rail work should be reduced to a minimum, but all-out war should not be declared to preserve the above interest.
Haredim fear domino effect
"Litzman is managing this whole train thing in a very extreme, very independent manner. His rabbi, the Ger Grand Rebbe, it's in his bones. Internal power struggles within his own Hassidic court also influence his tone," said an anonymous source from within the Haredi parties.

"Netanyahu and Litzman need each other very much and it's hard to see them breaking apart. A split within United Torah Judaism seems equally unlikely, but Litzman may very well have bitten off more than he can chew here and find himself resigning alone," the source added.

Shas and Degel HaTorah United Torah Judaism's Lithuanian faction headed by Gafni—ed) are indeed uninterested in withdrawing from the coalition, but fear they will be left with little choice of Litzman makes good on his threat, creating a domino effect.

"It would reflect badly to our voters that the senior minister, the chairman, resigned from the best government as far as Haredim are concerned due to ideological principle and we stay glued onto our chairs," the source said morosely.

"In such an eventuality, no explanation on our part regarding how we're doing it for the Shabbat and yeshiva students will convince anyone, and we'll come off as compromisers who are willing to sell the Shabbat for the creature comforts of government. This is why so much anger has been directed at Litzman. He may drag us all (out of the coalition) against our will," the Haredi source feared.