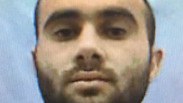 Ahmed Abid
Photo: Shin Bet
Gazan who fed Shin Bet intel on tunnels indicted in Israel
Ahmed Abid, who joined Hamas four years ago and was recently arrested while attempting to cross the border into Israel, divulged masses of crucial information on the terror group's tunnels, both intended to launch attacks in Israel and those intended for combat with the IDF under Gaza's territory.
A Palestinian resident of Gaza has been indicted for serious security-related offences, after the Shin Bet solicited from him copious amounts of crucial information about the workings of Hamas terror tunnels.

Ahmed Magdi Muhamad Abid, 23, was arrested at the end of September this year by Israel while attempting to cross the border into Israeli territory. He was served his indictment at the Be'er Sheva District Court.

Upon questioning Abid, interrogators learned that he joined Hamas four years ago and while in the terror group's ranks, he underwent military training and participated in various military exercises where he learned to fire anti-tank weapons, gained sniper techniques and trained in engineering.

It also emerged that he had participated in digging tunnels near where he lived in Shuja'iyya and acted as an activist for Hamas's border guards.

According to the Shin Bet, Abid divulged troves of intelligence about Hamas's tunnel network, including those intended for launching attacks against Israel inside its territory and those intended for combat with the IDF underneath Gazan territory.

Last month, the IDF Spokesperson's Unit confirmed that the Southern Command carried out a controlled detonation aimed at destroying a new terrorist tunnel which was in the process of being built. The tunnel was located near the border fence with Gaza, near the South Gaza city of Khan Yunis.