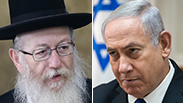 Litzman, Netanyahu
Photo: Alex Kolomoisky, Olivier Fitoussi
Health Min. Litzman resigns over Shabbat train work, throwing government for a loop
Litzman and his party, United Torah Judaism, continue to object to Shabbat train work, despite it being greatly reduced; future of goverment now up in the air: while Litzman announces he and UTJ to likely remain in coalition, it and Shas might resign together, bringing about the goverment's collapse.
Acting at the behest of his leader, Hasidic Ger Rebbe Yaakov Aryeh Alter, Ya'akov Litzman (United Torah Judaism) announced Friday he will resign as health minister on Sunday, but that he and his party would likely remain in the coalition. Litzman's pending resignation comes following his emphatic objections to road work being carried out on the Israeli train system on Shabbat, and after the High Court of Justice ordered him to serve as a full-time minister instead of continuing to serve as deputy minister.

Litzman and UTJ have long since objected to any work being done on Shabbat. In an effort to appease them, Minister of Labor and Social Affairs Haim Katz (Likud) announced he had greatly reduced train work and authorized that only essential actions be done on the train on Shabbat, to ensure rail safety. "This decision reflects full consideration for the feelings of the religious public on the one hand, and maintaining the routine of the train users on Sunday on the other," said Katz.

Whether forced by the command of the Rebbe Altman, or reflecting his own ideology, Litzman's resignation has dragged both Torah Judaism and Sephardic Haredi party Shas to a political whirlpool that none of them seem to want: despite being the one who created this crisis, Litzman has declared he is not interested in dismantling the government, which has made repeated efforts to appease its Haredi members.

Litzman is ostensibly alone in this campaign to either secure a complete halt to the desecration of the Shabbat or have him resign from his post of health minister. Such a move would also be a blow to Litzman, who is said to greatly enjoy his position and who has received a great deal of praise for his ministerial work.

In light of this, his declaration is believed to be a possible move on his part to placate Rebbe Altman while still remaining in the government.

It not likely, though, that Litzman's statement will appease Altman, who will probably call a meeting of Agudat Yisrael (the largest faction in UTJ) to discuss resigning from the coalition. Such a decision would also include the resignations of three more government positions—Deputy Education Minister Meir Porush and MKs Yisrael Eichler and Menachem Eliezer Mozes. The three tend to avoid causing political shock waves—all of which will be deemed irrelevant if Rebbed Altman decies to resign, as he is the strongest and dominant factor in the Rabbinical Council.

If Agudat Yisrael decides to resign from the government, it will almost certainly spell the same fate for Degel HaTorah—the Lithuanian and smaller faction within United Torah Judaism. Degel HaTorah's leader is Rabbi Aharon Yehuda Leib Shteinman, who, while considered more of a pragmatist, is over 100 and currently in the hospital in critical condition.

Since the political union between the two Ashkenazi ultra-Orthodox factions in 1992, under the United Torah Judaism party, there has been no precedent where only one of the factions withdrew from the coalition.

The snowball effect could then continue, with Shas—the Sephardi ultra-Orthodox party in the coalition, which normally works in complete with UTJ on matters of religion and state—also resigning. In fact, Shas leader Aryeh Deri and UTJ MK Moshe Gafni are reportedly furious with Litzman over the danger that his resignation might force both Shas to resign from the goverment.

"Prime Minister Benjamin Netanyahu greatly appreciates Minister Yaakov Litzman and hopes that he will not resign from the government," the Likud responded after Litzman's announcement to resign, adding that "the heads of the factions made it clear that they do not intend to leave the coalition, which would enable the formulation of an optimal solution that would preserve both the Shabbat and the public's need for safe and available transportation."

Following Litzman's announcement, the Coalition of Shabbat Equality issued their support while strongly criticizing the Israeli government for not enforcing a total day of rest on Shabbat.

The organization's Dir. Gen. Roy Lachmanovich said that "since the government's establishment, Minister Litzman has spoken for thousands of workers and business owners who lose their livelihood because they are forced to work on Shabbat against their will. He is careful to preserve Shabbat as a symbol that binds the people of Israel.

"I have no doubt that Interior Minister Deri and Chairman of the Finance Committee Gafni will not be able to stand by and remain silent, as the Shabbat continues to be run over as the official rest for the State of Israel today—and do nothing."