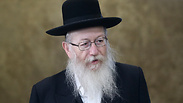 Minister Yaakov Litzman
Photo: Alex Kolomoisky
In compromise, Shabbat train work drastically reduced
Amid repeated threats by Minister Litzman to withdraw from the coalition over work on Israel's trains during Shabbat, ultra-Orthodox parties, Israel Railways and Labor and Welfare Minister flesh out details of compromise during hours-long discussions; Be'er Sheva-Dimona line to close during entire weekend for works not during Shabbat.
Following heated discussions over infrastructural work on Israel's trains scheduled to take place on Shabbat, a compromise was struck Thursday morning that will see a significant reduction in the amount of work permitted on the Jewish day of rest, forestalling a serious crisis that threatened to crumble the coalition.

The Dimona-Be'er Sheva line will be closed starting Friday at 5am and until Sunday at 5am to allow works on the line before the beginning of Shabbat and immediately after it ends.

Free shuttle services will operate between the Dimona and Be'er Sheva North/University stations.

The protracted discussions that took place between members of the ultra-Orthodox parties, Labor and Welfare Minister Haim Katz, and Israel Railways, continued into the small hours of Thursday morning, culminating in a temporary end to threats made by Health Minister Yaakov Litzman (United Torah Judaism) for a second time in six days to withdraw from the coalition.

As part of the new compromise, the railway's administration was asked to submit to Minister Katz a new work program that will include details of a significant reduction in the working hours set to be carried out on Shabbat.

Moreover, it was asked to supply facts in advance about work considered important enough to be carried out on Shabbat so as to avoid endangering passengers. Only this caveat justifies, according to the ultra-Orthodox parties, permitting work on Shabbat.

"The work we discussed that needs to be done during Shabbat rest hours stems from the fact we don't have alternative lines," said Israel Railways CEO Shahar Ayalon on Thursday morning.

Last Friday, an incensed Litzman said he would quit the government on Sunday if infrastructural work on trains in the Dimona-Be'er Sheva line this Shabbat were permitted to proceed.

After backing down from his threat, Litzman said on Sunday he would resign if a permanent solution is not found to prevent train maintenance work on Shabbat.

The Shabbat crisis once again was brought to bear on Wednesday, when politicians and from Litzman's own party and political camp broke ranks and attempted to rein in his recently reenergized penchant for issuing ultimatums.

Before the meeting during which the details of the compromise were fleshed out, heads of the Haredi parties met with Prime Minister Netanyahu and Minister Yariv Levin.

At the meeting's conclusion, the Prime Minister's Office announced that "it was agreed that every effort will be taken to reach a solution safeguarding Shabbat while not harming the general public."