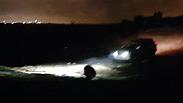 The Umm al-Hiran incident
Police clash with IA on Umm al-Hiran shooting
Shin Bet reportedly provides Internal Affairs with classified, sensitive document shedding light on January slaying of Umm al-Hiran resident police claim carried out vehicle attack; police sources allege IA disregarded document, some accuse it of 'tampering'; state attorney denies all charges.
The Shin Bet provided the Police Investigation Unit (Internal Affairs) with a classified document containing relevant, sensitive information pertaining to police shooting resident Yaqoub Abu al-Qiyan to death after he directed his vehicle at them—killing cop Erez Levi—during the Umm al-Hiran riots this past January.

News of the document was first reported by Channel 2 News Thursday evening.

Senior police sources, however, claimed Internal Affairs (IA) have thus far disregarded the Shin Bet document. IA, for its part, said "claims Internal Affairs withheld the document or fabricated evidence are patently false."

As IA were certain they had finished their inquiry into the Umm al-Hiran affair, State Attorney Shay Nitzan decided further completions are in order and ordered the case reopened and returned to Internal Affairs, with news of the aforementioned document, forwarded to IA at the behest of Attorney General Avichai Mandeblit and including relevant data collected at the scene of the crime, being reported Thursday.

Footage of the Umm al-Hiran incident

Internal Affairs had determined, based on its own inquiry into the matter, that al-Qiyan ramming cops with his car was not a terrorist attack but an accident. Said determination elevated tensions between IA and senior police and Ministry of Public Security officials.

With the existence of the Shin Bet document coming to light, police sources scathingly criticized IA and claimed the department chose not to pursue the leads offered therein. Some sources even went so far as allege tampering by the Police Investigation Unit.

Police further claimed that since Police Commissioner Roni Alsheikh decided to reinstate Lahav 433 Commander Roni Rittman, bad blood between police and IA has persisted, and has now surfaced. Alsheikh had also been criticized by the High Court of Justice for the decision.

The State Attorney's Office said in response, "At the state attorney's request, specific details in the investigation are being examined. Immediately after learning of the document's existence, Internal Affairs demanded Shin Bet hand it over.

After the investigation concludes fully, an up-to-date opinion will be put together and forwarded to the state attorney. It should be made clear the document's existence was not known until recently. Any other claims regarding withholding it or fabricating evidence by Internal Affairs are false and absurd. The state attorney rejects out of hand baseless accusations against Internal Affairs made in this context."

The violent clashes took place at nighttime between police forces and residents on the backdrop of families being evicted from their homes, and included live fire exchanges.

The police force, which arrived at Umm al-Hiran to provide security for the demolition of illegal buildings in the town, opened fire on residents and wounded Yaqoub Abu al-Qiyan.

Al-Qiyan then carried on driving and ran over and killed Sgt.-Maj. Erez Levi, who was part of the security detail. Al-Qiyan later succumbed to his wounds and passed away.

An Internal Affairs inquiry into the incident found serious failings with police's conduct during the clashes, which aroused a claim the incident leading to Levi's death was not an intentional car attack.