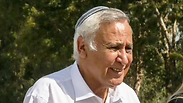 Moshe Katsav
Photo: Yariv Katz
Parole board rejects Katsav request to lift evening curfew
The disgraced former president, who was convicted of rape and granted early release in December 2016, asks to be allowed to leave his home at nighttime; State Attorney's Office opposes request, says restrictive conditions common among sex offenders.
The parole board has rejected a request by disgraced former president Moshe Katsav to ease the restrictive conditions of his release from prison, Ynet learned on Tuesday.

The reasons behind the decision to reject the request have been barred from publication.

Katsav, who was granted early release in December 2016 after serving five of his seven-year sentence for rape, has asked the parole board to lift his evening curfew.

The restrictive conditions imposed on Katsav are due to stay in place until the end of his official sentence period in December 2018.

The State Attorney's Office opposed the request, claiming these terms are common among convicted sex offenders and noting there was no justification to lift the curfew. The Israel Police also opposed the request.

Katsav's lawyer, Zion Amir, said two weeks ago barring the former president from leaving his home at night was "a stupid condition after a year he has been free."

"It's important to stress it was the Prisoner Rehabilitation Authority that asked to lift the curfew, after filing two very detailed reports (on the matter)," Amir added.

"You can't have a normal, reasonable life," Amir bemoaned. "A man can't go out—not to a wedding, a bar mitzvah, or just to see a movie. And the most important thing—he couldn't go see his wife at the hospital after she had surgery."

Amir said Tuesday that his client intends to appeal the decision.

This was the latest of Katsav's attempts to have his release conditions eased or lifted. In August, President Reuven Rivlin rejected a similar request to lift the restrictive terms, saying the parole board approved Katsav's release based on the fact that it was subject to restrictive conditions and a complex rehabilitation plan.

The parole board rejected a similiar request in April as well.