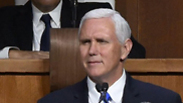 Pence: Trump considering when, how to move US embassy to Jerusalem
Speaking at event marking 70 years to UN vote in favor of founding State of Israel, US VP Pence says that Pres. Trump is looking into specifics of moving the embassy to Israel's capital; Throughout his presidential campaign, Trump vowed to move embassy to Jerusalem, though as president he delayed the move 'to give peace with Palestinians a chance.'
US Vice President Mike Pence said on Tuesday that President Donald Trump is actively considering "when and how" to move the US embassy from Tel Aviv to Jerusalem.

Pence made the comment in remarks at Israel's Mission to the United Nations in Queens, at an event celebrating the 70th anniversary of the United Nations' vote calling for the establishment of a Jewish state.

"President Trump is actively considering when and how to move the American Embassy from Tel Aviv to Jerusalem," stated Pence, after receiving a standing ovation from the crowd.

Pence during UN event

He added that "the horrors of the Holocaust reminded the world that (without Israel—ed) the safety an security of the Jewish people could not be assured."

"America stands with Israel because her cause is our cause, her values are our values and her fight is our fight," added Pence. "The days of Israel-bashing at the United Nations are over."

Israeli Ambassador to the UN, Danny Danon, also spoke the at the celebration. "Today, a historic event is being held here in the place where the historic vote that led to the establishment of the State of Israel.

"We celebrate two celebrations—that of the 33 ambassadors who supported the establishment of the State of Israel; and a second celebration, of 70 years of action and Zionism that we are proud of.

"Therefore, today, in the presence of the US vice president, dozens of ambassadors from all over the world also from countries that did not vote for us 70 years ago, and together we will salute the State of Israel," said Danon.

Throughout his presidential campaign, Trump had vowed to move the US embassy to Jerusalem.

However, in June Trump signed a waiver to keep it in Tel Aviv.

Following his signing the waiver, the White House issued a statement. "President Trump made this decision to maximize the chances of successfully negotiating a deal between Israel and the Palestinians, fulfilling his solemn obligation to defend America's national security interests. But, as he has repeatedly stated his intention to move the embassy, the question is not if that move happens, but only when."

Trump is facing a new deadline in early December on whether to extend the waiver again, a practice that his predecessors used to avoid inflaming tensions in the Middle East.

In addition to Pence and Danon, Tuesday's UN event included World Jewish Congress President Ronald Lauder and Transportation Minister Yisrael Katz.