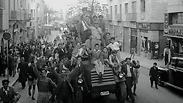 Scenes on November 29
Photo: GPO
Memories from a momentous day in Israel's history
As UN commemorates landmark vote creating Jewish state, telegrams congratulating Jewish Agency delegate on vote revealed; 'Godspeed, with love,' wrote Ben Gurion; 'Dawn is rising, new light will now shine on Zion,' wrote Chief Rabbi Herzog; children of 1947 recount their experiences on day of vote; 'Joy went for days,' remembered one.
The United Nations and Israel will be commemorating the landmark vote—held on November 29, 1947—to grant the state of Israel independence with a special ceremony at the site of the original vote in Flushing Meadows, Queens. In honor of the vote, many dignitaries as well as laymen and women sent telegrams and letters to the Jewish Agency lauding the occasion.

These historical documents were originally safeguarded at the Agency's political department and in the personal archive of Moshe Sharett, the Zionist organization's delegate to the vote. Today the documents are enshrined in the Central Zionist Archives in Jerusalem.

"Godspeed, with love," wrote David Ben Gurion, later Israel's first prime minister, to Sharett, who later became the country's first minister of foreign affairs.

Several countries consuls also wrote the Agency with words of congratulations, as did overseas Zionist unions, commercial entities and private persons. The missives were written in the Hebrew of that far-flung era. Craftsmen from Tel Aviv, for example, wrote Sharett, "The Jewish craftsman, a man of the people and of simple labor, carried the vision of Israeli sovereignty in his heart all his life, and rejoiced at this momentous day."

Holocaust survivors also wrote the Jewish Agency, saying, "We recognize your successful labor, on the field of redemption, may the divine spirit rest upon the building and creation of the land, and may Jews return to their homeland from all four corners of the Earth."

75-year-old Avraham Horowitz of Ahuzat Shmuel wrote, "The aforesaid congratulations spring forth from the heart of a Zionist who—from the first moment the later Dr. Herzl headed the Zionist movement—volunteered for the movement and for settling this land without pause until he himself came here. I'm seventy five now and regret not being able to express my feelings another way on this historic day."

Chief Rabbi Yitzhak Herzog, the grandfather and namesake of Opposition Chairman Yitzhak Herzog, wrote Sharett, telling him, "You have my congratulations on your historic efforts that, with the help God Almighty, were successful. Dawn is rising. A new light will now shine on Zion, by the grace of He who made the light."

Sharett himself sent a telegram to Golda Meir, who would later also become prime minister but then replaced Sharett as director of the Jewish agency's political department in Jerusalem. "I have been with you and the rest of the department's people through every stage of this tense, difficult campaign. The tidings of safety emanating from Jerusalem were a constant source of encouragement and inspiration," Sharett wrote her.

Some of the people alive during the 1947 vote could not send their letters of joy to the Jewish Agency, however, as they were children or very young adults at the time. Nevertheless, November 29 was a date they will never forget.




Some escaped by the skin of their teeth from concentration camps, while others were born in the country that would become Israel and witnessed the tense security situation. Regardless, in both cases, those children were in awe of the vote effectively creating a Jewish state by declaring Palestine will be split into two countries, a Jewish state and an Arab state, a decision which paved the way to the declaration of independence on May 14, 1948.

Sarah Peri was not yet in then-Palestine at the time. "I was about nine years old, and a survivor of Majdanek. My mother survived Auschwitz. We were also glued to the radio. I remember the outbursts of joy, dancing and hugging. I heard cries of 'We have a state, we have a state.' The joy went on for days, it was euphoric. These are people who emerged from the inferno, who left the camps, who were living skeletons and whose humanity was removed and suddenly a country was founded. For us, after 2,000 years it was a grand thing.

"When we got here by boat and saw the lights of Haifa from afar, everyone forgot their bad feelings and started feeling happy again. We got ashore and were helped off the ship. When we got to land, we kissed the ground with joy. When we came here, the situation wasn't so great. There were problems, but still I said Israel was wonderful. It's our land, and we have none other. My childhood actually started in Israel, when I was ten," she reminisced.

Yehudit Aricha was born in Tel Aviv, but in 1947 she had been living in Nahliel (later Hadera). "Of course we were very moved. I knew not everything was going to be great from the very start, but we couldn't wait. I was so pleased to hear the vote ended in our favor and hoped for the best. I was in the early stages of pregnancy then and my husband was away. He was a member of Haganah (the Jewish armed defense organization that would later serve as the basis for the IDF) and was taken the very same day to defend places they knew would be assailed by Arabs. I didn't know how he was getting on, but was happy for him as well.

"Not all of the homes had radios, but my grandfather's parents had a brand new one and I decided to go there. When I got close I found a large crowd of youths, children, mostly school-age. I decided to stay with them rather than go inside. Excitement during the vote was outstanding. The young boys and girls, all pupils, started counting. This one tallied a yes vote, that one tallied a no vote, they got confused and angry at each other for bungling the count. It was great. And when the moment arrived and we heard we won the vote, everybody applauded," she recounted.

Aricha said the days immediately after the vote were difficult in light of the security situation. "I expected the move to an independent state would be much easier. Unfortunately it was hard, due to Arab attacks and the War of Independence, which claimed many victims—many of which we knew. So while there may not have been peace or calm when the state was declared, at least we knew we were fighting for an actual state," she said.

Bella Kopatsch came to Palestine two and a half years before that fateful day. "I was about 14 and lived in Yagur. After going through the hell of the Holocaust, I came here with other children. We all huddled around the radio, listening to the yeses and no's until they finally announced – yes. We wept with joy," she remembered.