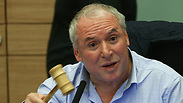 MK David Amsalem
Photo: Ohad Zwigenberg
Prime Minister Benjamin Netanyahu and Welfare and Social Services Minister Haim Katz will not be able vote next week on the controversial bill banning the publication of police recommendations for indictments, according to the Knesset's legal advisor, due to a conflict of interest.

Additionally, other members of the coalition have expressed adamant opposition to the legislation, which would apply to certain criminal investigations.

The feverish efforts of coalition leaders to ram the Recommendations Bill through the Knesset after passing its first reading earlier this week, encountered the unexpected obstacle by the legal advisor Wednesday night, along with coalition members withdrawing their initial support.

Despite the coalition's success in passing the Recommendations Bill, Knesset Legal Advisor Eyal Yinon spoiled their plans when he responded to a motion by the Movement for Quality Government that demanded to prevent Netanyahu and Katz from voting on the bill.

"When we came to examine this, we found that the prime minister and Minister Haim Katz, mentioned in the appeal, did not participate in the vote on the bill in the first reading," Yinon wrote. "According to the chairman of the coalition, MK Bitan, they are not being taken into account by him for the purpose of voting on the second and third readings, nor will they take part in them."

With Netanyahu and Katz precluded from participating in the vote, matters were made more difficult for the bill's chief architect MK David Amsalem when three MKs from the Kulanu party expressed objection, including MK Rachel Azaria, MK Merav Ben-Ari, and MK Eli Alalouf.

If the Kulanu party decides to allow free voting on the bill's second and third readings, the three are expected to vote against it. MK Benny Begin (Likud) is also likely to join them in opposing the bill.

Yinon's decision to disallow Netanyahu and Katz from voting on the bill for their apparent conflict of interest is another embarrassing blow to Kulanu chairman Moshe Kahlon, who justified his support of the bill in its preliminary reading on the basis that it was 'not a personal law,' and that he could no longer find a reason to object to it since he was disabused of his original belief that it was being pushed at Netanyahu's personal behest.

Despite the chiseling away of the bill's support base, the opposition is still not expected to gather a majority since the coalition will still have between 60 and 62 votes in favor of the bill.

They may, however, draw more people from the coalition to be convinced to vote against the bill, or even force the coalition to delay the vote on the bill until they are positive that they have a large enough majority to ensure its passage.