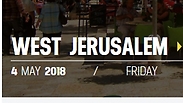 Screenshot from event's website
Screenshot from the race's website
Israeli officials on Thursday declared victory in a battle over semantics surrounding the upcoming Giro d'Italia, saying it had persuaded the cycling event to remove any reference to "West Jerusalem" from their website.

The Giro, one of cycling's three major races, will open in Israel next May, with the first day set to take place in Jerusalem.

The route has become a sensitive issue for the race because Israel's control of east Jerusalem, captured in the 1967 Six-Day War and annexed, is not internationally recognized. Israel considers the entire city, including east Jerusalem, home to the iconic Old City and its sensitive holy sites, to be its eternal capital.




The race is set to go near the Old City, but after consultations with Italy's Foreign Ministry, will not go through any land the international community considers occupied.

The Giro referred to "West Jerusalem" on a map on its official website this week. Furious Israeli officials threatened to drop out if the wording was not amended, and on Thursday the site was changed merely to "Jerusalem."

In a joint statement, Sports Minister Miri Regev and Tourism Minister Yariv Levin said they were "pleased."

The Giro said the original wording was "devoid of any political value."

In a statement, the grassroots Palestinian Campaign for the Academic and Cultural Boycott of Israel criticized the Giro organizers.

It accused the race of "yielding to political pressure" from Israel and "lending recognition to Israel's illegal hold over occupied east Jerusalem." It said the Giro is "directly complicit in Israel's propaganda claim" that Jerusalem is a unified city under its sovereignty.

The group also urged Pope Francis to reject a reported Israeli invitation to launch the event in Jerusalem.