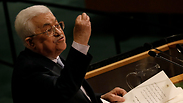 Palestinian President Abbas
Photo: EPA
Abbas launches diplomatic campaign to stop Jerusalem recognition
Palestinian leader talks to leaders from Jordan, Egypt, France and Qatar, asking them to pressure Trump to drop planned recognition of Jerusalem as Israel's capital; his adviser warns 'the world will pay the price' for any change in Jerusalem's status.
Palestinian President Mahmoud Abbas has been working over the weekend to prevent the US from recognizing Jerusalem as Israel's capital.

Abbas launched a diplomatic campaign, meeting and speaking with leaders from all over the world in an effort to convince them to pressure Washington to drop the move, which US officials said is expected to be announced on Wednesday.

The Palestinian president spoke on the phone to Jordan's King Abdullah II, Egyptian President Abdel Fatah al-Sisi, French President Emmanuel Macron, and Qatar's Emir Tamim bin Hamad Al Thani.

Mahmoud Habash, one of Abbas's top advisers, said Saturday if President Trump were to go ahead with the move, it would amount to a "complete destruction of the peace process."

Speaking in Abbas's presence, Habash said "the world will pay the price" for any change in Jerusalem's status.

The Arab League also condemned the move, warning it would fuel extremism and violence.

"Today we say very clearly that taking such action is not justified ... It will not serve peace or stability, but will fuel extremism and resort to violence," Arab League Secretary-General Ahmed Aboul Gheit said in a statement published on the Arab League's website on Saturday.

"It only benefits one side; the Israeli government that is hostile to peace," he added.

An earlier warning came from secretary-general of the PLO Executive Committee and chief negotiator with Israel Saeb Erekat, who said that "Any American recognition of Jerusalem as the capital of Israel will bring about the end of the Jerusalem issue. This issue is weighty and dealing with it is playing with fire."

Hamas, meanwhile, threatened to "restart the Jerusalem intifada," saying "This decision would represent a US assault on the city and give legitimacy to (Israel) over the city."

Reuters and the Associated Press contributed to this report.