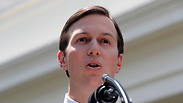 Kushner: Trump still examining US embassy move
President Trump's special Middle East advisor Jared Kushner says during Saban Forum interview his father-in-law still deliberating over whether to implement a presidential campaign pledge to move the US embassy from Tel Aviv to Jerusalem; 'He's looking into all the facts … He'll be the one to want to tell you. Not me.'
President Donald Trump's special Middle East advisor and son-in-law Jared Kushner said Sunday that the US president was still examining moving the US embassy from Tel Aviv to Jerusalem, but that 'he'll be the one to want to tell you.'
The comments came during an extensive interview during the Saban Forum in Washington, during which the top White House official was questioned on a host of political and diplomatic issues.
Jared Kushner talks at the Saban Forum (צילום: פורום סבן)
Asked whether or not President Trump was still planning to move the US embassy from Tel Aviv to Jerusalem, a characteristically reticent Kushner responded by saying "I'll tell you what we're telling everyone else," adding that Trump will be making a decision.
"All the reporters have already called saying they have inside sources and they know what the decision is but what I'll say is … the president's going to make his decision."
Pressed on the issue, Kushner added: "He is still looking at a lot of different facts and that when he makes his decision, he'll be the one to want to tell you. Not me. So he'll make sure he does that at the right time."
Kushner, usually known for staying out of the public spotlight, also added that a solution to the Israel-Palestinian conflict was a prerequisite for regional stability, but refrained from elaborating on the details of the US peace initiative being drawn up by the Trump administration,
Stability, he said, depended on forging a peace agreement between Israel and the Palestinians, frequently referred to by Trump as "the ultimate deal." According to Kushner, Trump is investing significant time and effort in formulating a new US peace push.
Last week, reports surfaced that Trump was planning to announce in the coming days that the United States recognizes Jerusalem as the capital of Israel, and is giving serious thought on how to fulfil his election campaign pledge to move the US embassy from Tel Aviv to Jerusalem.
Hopes were raised in Israel last week when US Vice President Mike Pence said that Trump is actively considering "when and how" to move the US embassy from Tel Aviv to Jerusalem.
Pence made the comment in remarks at Israel's Mission to the United Nations in Queens, at an event celebrating the 70th anniversary of the United Nations' vote calling for the establishment of a Jewish state.
"President Trump is actively considering when and how to move the American Embassy from Tel Aviv to Jerusalem," stated Pence, after receiving a standing ovation from the crowd.