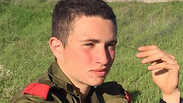 Security forces arrested last week two Negev residents on suspicion of involvement in a terror attack carried out last Thursday, in which Sgt. Ron Yitzhak Kokia was fatally stabbed in Arad, it was cleared for publication Monday.

During the investigation, one of the suspects implicated himself in the attack and informed his interrogators where the Tavor assault rifle was taken after being stolen from the 19-year-old Kokia in the murder.

The two suspects, both Bedouin, were arrested on Friday night, 24 hours after the attack, by the Shin Bet, which determined during the investigation that the stabbing was nationalistically-motivated.

The two were arrested, the Shin Bet said, after intense intelligence operations and a widescale manhunt.

On Sunday, one of the suspects took the security forces to the scene of the stabbing, where he reconstructed exactly how it took place.

A gag order was placed over the identities of the suspects.

Kokia, who served in the Nahal Brigade, was stabbed to death while waiting for the bus outside a mall in Arad on Thursday night in what police believed from the outset was likely a nationalistically-motivated murder.

He was laid to rest Sunday afternoon at Tel Aviv's Kiryat Shaul military cemetery, with some 2,000 people in attendance.

A family member of one of the suspects dismissed the possibility that the two were responsible for the murder. "No way could they murder a soldier. I don't believe the police's version. It's possible that pressure was put on them," the family member said.

"I think they arrested them only because they were in the area," he added, "So far, we have not met with them. We are waiting to be allowed to speak to them so we can understand the picture. In any event, we all condemn the murder of the soldier and there is no one in our family thinking about harming Jews or Arabs."

The father of the slain soldier, Boaz Kokia, praised the security forces for swiftly apprehending the suspects.

"I am pleased that the security forces caught the murderer of my son. They updated us that there was a development in the investigation but I didn't know they had been caught. I also didn't know they found the gun. That means maybe they prevented another attack on Israeli civilians."

Prime Minister Benjamin Netanyahu later praised the Israeli security forces for the arrests.

"I praise the swift actions actions of the Shin Bet and civilian counter-terrorism units for capturing the despicable terrorists who murdered Ron Kokia," Netanyahu said.

"The intelligence and military missions by the security forces led to quickly solving the terror attack and the rapid capture of the terrorists by the night after the attack."

Yoav Zitun, Ilana Curiel and Hassan Shaalan contributed to this report.