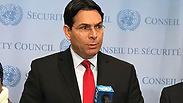 State attorney orders police examination of allegations against Danon
Israel's Ambassador to the UN Danny Danon is suspected of using public funds and donations to pay millions of shekels in 'salaries' to dozens of Likud activists and their families in return for supporting him in the party's primaries; Danon's office: 'He always acted in accordance with rules and regulations.'
State Attorney Shai Nitzan instructed the Israel Police on Monday to examine the corruption allegations made against Israel's Ambassador to the UN Danny Danon.

According to an investigative report by the Israel Television News Company, Danon used public funds and donations to create a mechanism of paying millions of shekels in "salaries" to dozens of Likud activists and their families in return for supporting him in the party's primaries.

Danon, who serves as the World Likud chairman, allegedly used his power in the organization to take hold of a non-profit organization called Making Zionism ("Osim Tzionut") and placed his confidant Yaakov Hagoel at its helm.

Keren Kayemeth LeIsrael (KKL) allegedly funneled vast sums into Making Zionism, especially during 2014, the year primaries in the Likud were held.

The Making Zionism non-profit launched a project dubbed "Cluster Coordinators" to spread the values of Zionism the world over, with each coordinator paid several thousand shekels.

The organization has also been planning conferences for Danon using its own funds, the report said. In one example, it organized an event which was attended mostly by Likud activists, and in which Danon gave the keynote address.

Other examples included an event two years ago reenacting the November 29 UN vote on Israeli independence, with Danon and Hagoel onstage. A year later, when Danon was already UN ambassador, he spoke at the organization's anti-BDS conference.

Both Danon and the Making Zionism organization denied the allegations.

A statement on behalf of Danon on Monday said that "All of Ambassador Danon's actions in his public roles have always been in accordance with all rules and regulation, and obviously this examination will confirm that as well. At the same time, we're hoping a similar examination will be done in other departments of the World Zionist Organization and Keren Kayemeth LeIsrael (KKL), which are headed by political representatives from other parties, such as Meretz, Zionist Union and others."