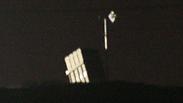 Iron Dome air defense system
Photo: Roee Idan
Five Code Red rocket alert sirens were sounded in the Eshkol Regional Council in southern Israel on Monday night. The first siren sounded at 1:48 am, followed by four other sirens at 2:54 am, 4:14 am, 4:51 am and 5:03 am. There were no reports of injuries or damage and no rocket remains were found on the ground.

The IDF confirmed its systems had detected rocket launches, but later reported that "in light of the similarity between the five launches and their unusual nature, there may have been a malfunction."

IDF forces will expand their searches for rocket remains in the morning hours. The sirens may have been activated as a result of battles between the Egyptian army and ISIS operatives in Sinai, near the Israel and Gaza borders.

A particularly unusual barrage of mortar shells was fired at an IDF outpost north of the Gaza Strip on Thursday afternoon by the Palestinian Islamic Jihad, prompting retaliation from the army.

The shells followed earlier gunfire aimed at the post. The 10-12 shells that were fired fell in open areas near the outpost, and no one was hurt.

Moments after the mortar fire, IDF tanks and fighter jets attacked four Hamas lookout positions near Beit Hanoun on the northeast edge of the strip, which serves as a military stronghold for Hamas and the Islamic Jihad terror group.

Later, the IAF mounted a second attack against two targets in the central Gaza Strip, which Palestinian reports said were two Islamic Jihad military posts.

The Health Ministry in Gaza said three civilians were lightly wounded in one of the Israeli strikes.

The IDF said Islamic Jihad was behind the attack, which was revenge for the destruction of their border-crossing tunnel.

In the wake of the attack, IDF Chief of Staff Gadi Eisenkot held a situation assessment meet with the army's top generals.

"We know exactly who shot, on a personal level, their names," said IDF Spokesman Ronen Manelis. "It's safe to assume it is the same group that is operating in an organized manner, not from the gut, but with instructions from Damascus."

He said the mortar shell fire was targeting the IDF outpost and the nearby construction work on the Gaza obstacle project, which were stopped immediately afterwards.

Israel has been constructing a sensor-equipped underground wall along the 60-km (36-mile) Gaza border, aiming to complete the $1.1 billion project by mid-2019.