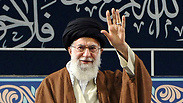 Ayatollah Khamenei
Photo: Reuters
Iranian supreme leader: 'Palestine will be freed'
Ayatollah Khamenei says planned speech by President Trump on J'lem recognition, possible move of US Embassy to capital, a reflection of 'incompetence and failure,' adding Palestinian people will be victorious; recognition would be 'kiss of death' to two-state solution, says Palestinian envoy to UK; embassy move a culmination of 'crime of usurping Palestine, displacing Palestinian people,' says Syrian gov't source.
The US intention to move its embassy to Jerusalem is a sign of incompetence and failure, Iranian Supreme Leader Ayatollah Ali Khamenei told guests of the Islamic unity conference Tehran hosted on Wednesday, adding "Palestine will be freed" and the Palestinian people will be victorious.

President Donald Trump is expected to announce that the United States recognizes Jerusalem as the capital of Israel and will move its embassy there, breaking with longtime US policy and potentially stirring unrest.

"That they claim they want to announce Quds as the capital of occupied Palestine is because of their incompetence and failure," Khamenei said, using the Arabic name for Jerusalem, according to his official website.

"On the issue of Palestine, (US) hands are tied and they cannot advance their goals," Khamenei said.

"American government officials have said themselves that we have to start a war in the region to protect the security of the Zionist regime (Israel)," Khamenei said.

Certain rulers in the region are "dancing to America's tune" he added as an indirect reference to Iran's main regional rival Saudi Arabia.

Announcing similar rejection of the move, the Palestinians' chief representative to Britain said on Wednesday Trump would effectively be making a declaration of war if he recognizes Jerusalem as Israel's capital.

"If he says what he is intending to say about Jerusalem being the capital of Israel, it means a kiss of death to the two state solution," Manuel Hassassian said in a BBC radio interview.

"He is declaring war in the Middle East, he is declaring war against 1.5 billion Muslims (and) hundreds of millions of Christians that are not going to accept the holy shrines to be totally under the hegemony of Israel," Hassassian added.

British Foreign Minister Boris Johnson expressed his concern regarding the possible transfer of the American Embassy from Tel Aviv to Jerusalem, adding Britain had no similar plans.

Pope Francis, for his part, said "recognizing the rights of all people" in the Holy Land is a primary condition for dialogue.
'Usurpation of Palestine, displacement of the Palestinian people'
An official Syrian Foreign Ministry source severely denounced Trump's intention of moving the US Embassy to "occupied Jerusalem" and recognizing it as the capital of the "Israeli occupation" in a conversation with Syrian SANA news agency.

"(The move) is the culmination of the crime of usurping Palestine and displacing the Palestinian people," SANA said, quoting the Foreign Ministry source.

"This is a dangerous initiative by the US administration that clearly exemplifies the United States' contempt for international law," the official added.

Turkish Foreign Minister Mevlüt Çavuşoğlu spoke on the potential embassy move and said it would be a "grave mistake" and that he had warned US Secretary of State Rex Tillerson on the matter.

Before a bilateral meeting with Tillerson at NATO headquarters, Çavuşoğlu said: "It would be a grave mistake (to move the US embassy). It will not bring any stability... but rather chaos and instability."

"The whole world is against this," he said, adding that he had already told Tillerson how he felt and would reiterate it at the meeting at NATO during the alliance's foreign ministers' meeting.

In anticipation of Trump's speech, teams of US Marines will be beefing up security on American embassies in the Middle East, American officials told ABC News.

Dispatching the teams to embassies was a precautionary move in case violence erupts in the wake of the president's speech, the American officials said. As a similar precaution, the US State Department issued a travel warning to all American citizens for east Jerusalem and the West Bank.

"The Department of Defense takes necessary steps to mitigate threats to US personnel and interests around the world," said Lt. Colonel Mike Andrews, a Defense Department spokesman.

"In addition, (the Department of Defense) continually works closely with State Department's Bureau of Diplomatic Security to protect US interests at all embassies and consulates," he added.

The increased security detail will consist of teams consisting of 40 Marines in total, specially trained in securing US embassies.

Tuesday's travel warning to the region said American were to "avoid areas where crowds have gathered and where there is increased police and/or military presence."

The Associated Press and Reuters contributed to this report.