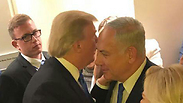 President Trump (L) and PM Netanyahu share an embrace
Trump, PM Netanyahu spoke 3 times before speech
President Trump, PM Netanyahu spoke 3 times over 10-day period before speech; Netanyahu assured Trump in conversations Jerusalem status quo would be maintained, told him he was 'making history'; Israel to leverage ties in Latin America, Asia, Africa to counter criticism over speech.
Prime Minister Benjamin Netanyahu took part in President Donald Trump's decision to officially recognize Jerusalem as Israel's capital, with the pair speaking three times over the past ten days alone.

In his talks with the president, Netanyahu is said to have stressed the historic importance of such a statement coming from the leader of the United States. "you are about to make history," Netanyahu said he told Trump. The prime minister also assured the president the status quo in Jerusalem will be maintained.

In the wake of Trump's controversial speech, Israel has been analyzing international responses. Those coming in from Arab, central and eastern European countries have been predictable and measured. Those coming in from Western Europe, however, have been more problematic for Israel, with the European Union stating Jerusalem should be the capital of Palestine as well as Israel.

Nevertheless, Israel has been working in several simultaneous international arenas while utilizing newly-formed links in Latin America, Asia and Africa to promote its agenda.

Prime Minister Netanyahu is expected to travel to Brussels next week to meet the European Union's foreign ministers. An Israeli premier last visited the Union's headquarters 22 years ago.

The EU's top diplomat Federica Mogherini responded to the American decision by saying she feared it could send the region back "to darker times."

The Ministry of Foreign Affairs countered by saying, "Insisting on denying Jerusalem is Israel's capital is disavowing an undisputable historical fact. Any denial of this simple truth distances peace by creating expectations detached from reality in Palestinians."

Once again congratulating Trump on his decision, Prime Minister Netanyahu wrote on his Facebook page that "There are certain great moments in the history of Zionism: the Balfour declaration, the state's founding, the liberation of Jerusalem and—(Wednesday)—Trump's declaration. I told him, 'Mr. President, you're about to make history.' And he made history."

"It's an uplifting and uniting moment: for the right and the left, the religious and the secular. We're making Jerusalem our pride and joy," Netanyahu declared.