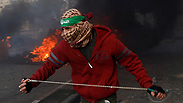 Palestinian on 'Day of Rage'
Photo: Reuters
Israel girds for 'Day of Rage' over Trump's Jerusalem plan
Hamas terror group calls for violent Palestinian uprising after Trump declares Jerusalem as Israel's capital; Israeli troops and riot police deployed throughout West Bank to contain a second day of clashes, riots expected after Friday prayers at al-Aqsa mosque.
The Islamist terror group Hamas urged Palestinians on Thursday to abandon peace efforts and launch a new uprising against Israel in response to US President Donald Trump's recognition of Jerusalem as its capital.

"We should call for and we should work on launching an intifada (Palestinian uprising) in the face of the Zionist enemy," Hamas leader Ismail Haniyeh said in a speech in Gaza.

Protests over Trump's declaration (צילום: עיר עמים)

Palestinian factions called for a "Day of Rage" on Friday, and a wave of protest in the West Bank and Gaza on Thursday brought clashes between Palestinians and Israeli troops. At least 31 Palestinian demonstrators were wounded by Israeli gunfire and rubber bullets, medics said.

Gearing up for the reinvigorated wave of violence, which are expected to intensify after Friday prayers at the al-Aqsa mosque in Jerusalem's Old City, the military said it was reinforcing troops in the West Bank.

Israeli troops employed riot-dispersal techniques as protesters threw rocks at soldiers and burnt tires as others chanted: "Death to America! Death to the fool Trump!" and vowed that "Jerusalem will be the capital of Palestine."

Trump reversed decades of US policy on Wednesday by recognizing Jerusalem as the capital of Israel, angering the Arab world and upsetting Western allies.

During his speech, Trump stressed that his predecessors had made the declaration that Jerusalem was the capital of Israel but never translated their statements into official policy. "Well tonight, I'm delivering," Trump said.

The status of Jerusalem, home to sites considered holy to Muslims, Jews and Christians, is one of the thorniest issues in the peace talks between Israel and the Palestinians.

On Friday's "Day of Rage," rallies and protests are expected throughout the West Bank and along the border with Gaza.

Naser Al-Qidwa, an aide to Palestinian Authority President Mahmoud Abbas and senior official in his Fatah party, urged Palestinians to stage peaceful protests.

Abbas on Thursday met Jordan's King Abdullah, whose dynasty is the traditional custodian of Jerusalem's holy places. Jordan is a staunch US ally but has dismissed Trump's move as "legally null".

Israel considers Jerusalem its eternal and indivisible capital. Palestinians want the capital of an independent state of their own to be in the city's eastern sector, which Israel unified after the 1967 Six-Day War. No other country has its embassy there.

US officials said that when Trump forewarned the Palestinian president of his intention to recognize Jerusalem as Israel's capital, he assured him that a peace plan being put together would please the Palestinians.

Israeli Housing Minister Yoav Gallant said he would next week bring to the Cabinet for approval 14,000 housing units, some 6,000 of which are slated for construction in areas in eastern Jerusalem and are already at various planning stages.

"Following President Trump's historic declaration, I intend to promote and reinforce building in Jerusalem," Gallant said in a statement.

Protests have broken out since Trump's announcement in Jordan, outside the US consulate in Istanbul and in Pakistan. Thousands of Tunisians protested in several cities on Thursday.