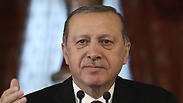 Turkish President Recep Tayyip Erdoğan
Photo: AP
Erdoğan steps up attacks on 'state of occupation' Israel
Turkish President Erdoğan rails against President's Trump's decision to recognize Jerusalem as Israel's capital, describes Israel as 'state of occupation' that uses 'terror' against Palestinians; Jerusalem is 'apple of our eye', 'red line' for Muslims, Erdoğan declares, saying American decision was 'null and void.'
Turkish President Recep Tayyip Erdoğan on Saturday described Israel as a "state of occupation," which used "terror" against the Palestinians, as he stepped up his criticism of the US recognition of Jerusalem as its capital.

Erdoğan has been bitterly opposed to the decision of President Donald Trump to recognize Jerusalem and has called a summit of Islamic countries on December 13 in Istanbul.

"Israel is a state of occupation," Erdoğan said in a speech in Istanbul, referring to Israel's settlement building.

"And now they are making use of terror and are bombing young people and children," he said.

Retaliatory Israeli air strikes on the Gaza Strip killed two militants from Palestinian terrorist group Hamas before dawn, bringing to four the number killed since Trump announced the move.

Erdoğan, who regards himself as a champion of the Palestinian cause and an opponent of any perceived global injustice against Muslims, described Jerusalem as the "apple of our eye" and a "red line" for Muslims.

He said that the American decision was "null and void" for Ankara.

"Trump seeks to move forwards by saying 'there we go, I did it, it's done!' I'm sorry but... being strong does not give you such a right.

"The leaders of major countries have a mission to make peace. Not unleash conflicts."

Erdoğan on Saturday continued to play a central role in diplomatic efforts in the crisis, telephoning French President Emmanuel Macron and Lebanese President Michel Aoun, the presidency said.

The Turkish presidential source said Erdoğan and Macron agreed during a phone call that Trump's move was worrying for the region and that Turkey and France would make a joint effort to try to reverse the US decision.

Erdoğan also spoke to the presidents of Kazakhstan and Azerbaijan on Saturday, the source said.

Last year, Turkey and Israel ended a rift triggered by Israel's storming in 2010 of a Gaza-bound ship that left 10 Turkish activists dead and led to a downgrading of diplomatic ties.

The two sides have since stepped up cooperation, particularly in energy, but Erdoğan has repeatedly been bitterly critical of Israeli policy.

Last week he warned that Turkey's reaction "could go as far as" cutting relations with Israel, but he made no reference to this in his latest speech.

Reuters contributed to this report.