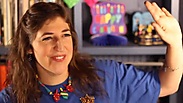 Mayim Bialik adorned with Hanukkah-themed jewelry
Photo: Facebook
Big Bang Theory star talks about Hanukkah
Big Bang Theory, Blossom star Mayim Bialik publishes Facebook video giving Hanukkah nitty gritty, disputing widespread American myths about the holiday; video, boasting 3 million views, 55,000 shares and 3,000 comments, teaches viewers about holiday's foods, traditions.
Hollywood star Mayim Bialik—fondly remembered for beloved nineties sitcom Blossom and currently starring on Big Bang Theory as Dr. Amy Farrah Fowler—uploaded a Facebook video this past weekend illustrating everything you absolutely need to know about Hanukkah—in just five minutes—from the customs of the Festival of Lights to its origin story, refuting several longstanding American myths about it along the way.

The video became an instant online sensation with more than three million views and 55,000 shares as of Sunday. Bialik also revealed this year the first day of Hanukkah happens to fallon her birthday—December 12 if you were interested in wishing her mazal tov—and has once again proven that being a successful actress does not stand in the way of her proud orthodox-Jewish identity.

Mayim Bialik's illuminating video

"People have a lot of misconceptions about Hanukkah, so here's a little quiz to help you figure it all out. Take the quiz and prepare to impress your Jewish and gentile friends and family," Bialik opened the video by saying. She then goes on to answer six true or false questions covering the basic tenets of the holiday.
'Latkes with ketchup? Yum!'
Bialik then attempts to disprove a commonly held belief in the United States that Hanukkah is in fact the Jewish Christmas. "Since Hanukkah tends to fall right around Christmas, a lot of people think that it's the Jewish equivalent of Christmas. It's a holiday with rituals and traditions but it's actually not Jewish Christmas. Christmas celebrates Jesus being born in a manger and because Christians believe Jesus is the son of God, it's a huge deal… Hanukkah is about a group of Jews called the Maccabees defeating the Seleucid army in the 2nd century BC, and its detailed in the apocrypha, not the Old Testament."

"It's also about a miracle where this oil that was supposed to last for one day lasted eight days, and it's about defeating oppression and religious freedom and believing that what you believe in is worth your life," Bialik explained.

The Jewish actress then helpfully illuminates (pun intended!) the difference between major and minor holidays, and why work is therefore permitted on Hanukkah but forbidden on holidays such as Rosh Hashanah. Another widespread belief, this time justified, has to do with the holiday's rather oily gastronomy. As she says in the video, "Jews eat super unhealthy food for (the) eight days of Hanukkah."

"True. Because the story of Hanukkah revolves around oil, we basically eat tons of food fried in oil, like latkes—or potato pancakes. They're this potato-onion fritters and they're amazingly delicious with sour cream or apple sauce or—if you're in my family—ketchup. It's basically an eight-day festival of oily goodness. Yum!" Bialik said with a smile.

Other burning issues broached in the video are the myth around eight days of presents (wrong), playing with "little spinning top thingies" (true, and she has the dreidel collection to prove it) and lighting candles in the "menorah" (go ahead and field that one yourselves).
More than 3,000 comments
The Hanukkah video was not the first time Bialik proudly showcased Jewish tradition. In 2015 she was forced to celebrate Hanukkah at work with her Big Bang Theory castmates, so she placed all of the hanukkiot she owned—and has been collecting since kindergarten, including some blue-white ones—and held an impressive candle-lighting ceremony with all of the Jewish cast and crew in attendance, of which there were quite a few.

In the more than 3,000 comments to the video—most of them coming from non-Jews—it seemed Bialik's fans were quite enthused with her educational explanations. "I was just trying to explain Hanukkah to my seven- year-old-daughter. You've done a better job than I did," wrote one David Berkley, who defines himself as a Buddhist.

A fan called Jessica Armstrong thanked Bialik and explained, "I don't know any Jews personally, so it was fascinating to get a better understanding. I celebrate Christmas, but am often drawn to Hanukkah gift wraps."

Another comment came from a woman named Eileen Copeland-Nixon, who wrote, "Thank you, Mayim, for explaining Jewish holidays to us gentile Christians. Since Jesus was an observant Jew, it's good that I know these things."