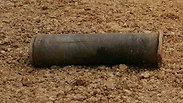 File photo
Photo: Sha'ar HaNegev Spokesperson
IDF tanks and IAF fighter jets attacked Hamas military positions in the northern Gaza Strip overnight Monday in retaliation for the rocket fire on Ashkelon.
The rocket, which was launched around 11:30pm, triggering Code Red alarms in multiple communities in Ashkelon and the Hof Ashkelon Regional Council, was intercepted by the Iron Dome missile-defense system. No one was harmed and no damage was reported.
The rocket's interception over Ashkelon
In addition to the intercepted missile, the Iron Done system identified more rockets launched from the strip, leading to Code Red sirens being sounded from Netiv HaAsara near the Gaza border, all the way to Kfar Silver on the outskirts of Ashkelon.
Among the communities in which the Code Red alarm was triggered were also Berekhya, Hodaya, Mash'en, Nir Yisrael, Beit Shikma, Bat Hadar, Ge'a, Zikim, Karmia, and Yad Mordechai.
Explosions were heard in the surrounding region after the shooting and interception, reportedly stemming from the IDF's retaliation to the shooting.
Another rocket was launched at Israel from the Gaza Strip earlier Monday, and detonated in open land within the Eshkol Regional Council on the Gaza perimeter. No physical or material damage was caused. The IDF confirmed it retaliated to the rocket launch using armored and air forces targeting Hamas posts near the border fence in southern Gaza.
It was cleared for publication Sunday the IDF had exploded a Hamas terror tunnel reaching hundreds of meters into Israeli territory.
In response, Hamas threatened that "the enemy must be afraid and know it will pay a price for breaking the rules of engagement with the Gaza resistance. The coming days will prove the enormity of the enemy's mistake and miscalculation as to the resistance's willpower."