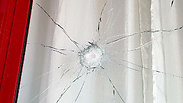 File photo. Rocket that hit Sderot kindergarten
Photo: Roee Idan
Rocket launched from Gaza, explodes in open field
With tensions mounting in Israeli communities on Gaza Strip's perimeter, another rocket was launched from strip, exploded in open area within Eshkol Regional Council; Palestinians report IDF retaliated with tank fire at observation post; 3 rockets were launched at Israel Friday, 2 landing in Sderot.
A rocket launched at Israel from the Gaza Strip Monday evening detonated in open land within the Eshkol Regional Council on the Gaza perimeter. No physical or material damage was caused. The IDF confirmed it retaliated to the rocket launch using armored and air forces targeting Hamas posts near the border fence in southern Gaza.

It was cleared for publication Sunday the IDF had exploded a Hamas terror tunnel reaching hundreds of meters into Israeli territory.

In response, Hamas threatened that "the enemy must be afraid and know it will pay a price for breaking the rules of engagement with the Gaza resistance. The coming days will prove the enormity of the enemy's mistake and miscalculation as to the resistance's willpower."

The army revealing the tunnel's existence came on the heels of three rockets being launched from Gaza Friday evening, one of which was intercepted and two exploding within Sderot's city limits. Two people were treated for anxiety and nearby cars were damaged.

The IDF attacked in northern Gaza twice in retaliation over the weekend with air force jets bombing Hamas weapons manufacturing sites and ammunitions caches.

Several communities on Gaza's perimeter began to instruct their citizens—of their own volition but with IDF coordination—to remain near shelters following mounting tensions.

An announcement released by the Sdot Negev Regional Council to its denizens read, "Due to alarms sounding within the council's limits, as a precaution we ask (residents) to remain near shelters or shielded places."