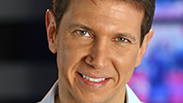 Ronen Bergman
Photo: Dana Kopel
Sokolov Award, the 'Israeli Pulitzer,' honors journalist Ronen Bergman
Dr. Ronen Bergman receives the highest Israeli prize for journalism for 'serious of important and courageous exposés'; 'I may be the one receiving the award, but it is shared by the people of Yedioth Ahronoth,' Bergman says at awards ceremony.
Yedioth Ahronoth journalist Dr. Ronen Bergman received the 2017 Sokolov Award in a ceremony at the Einav Culture Center in Tel Aviv earlier this week.

The Sokolov Award, considered the Israeli Pulitzer, has been awarded since 1965 to "encourage journalists who excel in their journalistic work and made their marks on the world of journalism" and to "note marked achievements in journalistic investigation."

Bergman, 45, was selected to receive the award for print journalism for "a series of important and courageous exposés published in Yedioth Ahronoth."




Bergman has authored dozens of cover stories and main headlines, which received widespread attention both in Israel and abroad. Only recently, Bergman published in Yedioth Ahronoth (in conjunction with the New York Times and Die Zeit) the files on the Mossad's chase after the "Angel of Death from Auschwitz," Dr. Josef Mengele, and an extensive investigative report (in conjunction with Die Zeit) about the deep-rooted corruption—which infected even Prime Minister Benjamin Netanyahu's closest circle—in Israel's mass deals to purchase submarines from Germany.

Bergman also uncovered a list of spies and agents the KGB had operated in Israel, its funding of Palestinian terror elements and its war on the Zionist Movement, from documents smuggled out of the former Soviet Union by the Russian spy agency's former archivist Vasili Mitrokhin.

In another article, Bergman brought to light testimonies of IDF commandos who took part in Israel's legendary Operation Entebbe to rescue the passengers and crew of an Air France plane hijacked by terrorists.

He also conducted exclusive interviews with former Mossad director Meir Dagan, former CIA director Michael Hayden, and with the late Brig. Gen. Yitzhak Yaakov. Yaakov was later convicted of revealing secret information related to Israel's nuclear secrets to Bergman, and sentenced to two years of probation.

The judges panel, headed by journalist Ilana Dayan, explained the reasons for their choice: "The award is being given to Dr. Bergman for his determination to expose and cover, for his ability to explain and clarify, for the courage he displayed when facing those who tried to silence, cover up, or suppress (his reports), and for his unique contribution to understanding what is done behind the closed doors of the security world."

Dr. Bergman was moved by the honor. "I started writing when I was 12," he said. "Journalism is holy work meant to safeguard the values of democracy important to all of us."

"Israel's defense establishment and its intelligence community are massive when compared to any other country in the world proportionate to its size, population and budget," Bergman explained. "Israel's intelligence branches have a covert, but deep-rooted influence over the country's history and, in fact, over the whole world. Despite this, there is no state body that conducts effective supervision of these bodies. This is where our duty lies—my duty—in working to expose and reveal and have proper public and democratic criticism."

Bergman went on to say that "I may be the one receiving the award, but it is shared by the people of Yedioth Ahronoth—from the editor-in-chief, the editorial staff, and the producers to everyone who works every day to publish the newspaper. I accept this award with shaking hands and dedicate it to the team at Yedioth Ahronoth, Ynet and Ynetnews."

Bergman, formerly at Haaretz, has been working as an investigative journalist and senior national security correspondent for Yedioth Ahronoth since 2000, writing primarily about intelligence, terrorism, national security and nuclear weapons. He is also a contributing writer for the New York Times, and has had articles published on the Wall Street Journal, Newsweek, Foreign Policy, Foreign Affairs, Der Spigel and others.

He published five best-sellers in Hebrew: Authority Granted (2002), about corruption and terrorism in the Palestinian Authority, based on secret documents from Yasser Arafat's archives; Moment of Truth (2003), which brought to light recordings and original documents from the 1973 Yom Kippur War for the first time; Point Of No Return (2007), about the Israeli intelligence's secret war against Iran; By Any Means Necessary (2009), about the Mossad's search for Israeli POWs and MIAs; and Ha-Bor (2011) with Dan Margalit, about corruptions in the IDF's top command.

His book The Secret War With Iran came out in the United States, Europe and Japan in 2008 to raving reviews. His next book, Rise and Kill First, will be released worldwide next year by Random House.

During the ceremony on Sunday, Haaretz publicist Yoel Marcus received the lifetime achievement award, while the electronic journalism award was given to Channel Ten foreign news desk editor Nadav Eyal, who writes regular op-eds for Yedioth Ahronoth, and Uvda investigative journalist Itai Anghel.