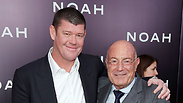 Packer (L) and Milchan
Photo: EPA
Packer corroborates Milchan's account on PM gifts
Australian billionaire James Packer supports Arnon Milchan's account that the gifts received by PM Netanyahu and his wife were not given out of friendship, but due to demands by the couple; questioned by Australian investigators, Packer says Milchan asked him to assist in lavishing gifts on the Netanyahus, which was coordinated through the latter's assistant.
Australian billionaire James Packer corroborated testimony recently given by businessman Arnon Milchan, who claimed that expensive gifts given to Prime Minister Benjamin Netanyahu and his wife were not gestures of friendship, but rather demands made by the couple.

Packer's testimony was the latest in the corruption investigation involving illicit gifts the Israeli premier and his wife allegedly received as bribes, also know as Case 1000. "Milchan asked me to help with the gift giving," the Australian tycoon told police.

Packer agreed to provide his account after months of stalling. He was convinced to speak with investigators after being promised he would not be questioned under caution and that his testimony would not be used against him.

An additional condition, put in place after a date was set for the questioning, demanded that Packer would be questioned by Australian investigators.

According to Packer, he was forced to give Netanyahu gifts, after being asked to do so by Milchan. Packer's gift-giving was coordinated by Milchan's assistant Hadas Klein.

"She would put together whatever was needed and what was still missing and I would approve it. That's how it worked," Packer recounted, adding he had never asked for anything in return.

The Israel Police were said to be pleased with Packer's testimony, as it further cemented their allegation against the Netanyahu couple that the gifts were not given freely by friends, a defense Netanyahu emphasized during his last round of questioning.

"Arnon (Milchan) spoke to me and I agreed. I don't know exactly what was given (to the prime minister and his wife)," Packer said. Police meetings held after his testimony showed a consensus that the evidence in Case 1000 was ironclad in pointing to Netanyahu receiving illicit benefits.

Channel 2 News published further quotes from Hadas Klein's testimony Thursday, once again strengthening suspicions around Netanyahu's direct, personal involvement in receiving the "gifts."

"On some occasions Netanyahu asked for the cigars directly from me. But not the champagnes. He would call them 'leaves' and showed me which cigars to buy. He'd talk to me about it on the phone and in person. Packer doesn't smoke, but I notified the guy who works with him that the cigars were bought at his expense," Klein reportedly said.

Contrary to the prime minister's position as to the friendly nature of his relationship with Milchan, the businessesman is said to have testified that "they weren't exactly gifts. It was a demand, and you don't demand gifts. It disgusted me."

Police have suspended their inquiries into Cases 2000 (regarding talks Netanyahu held with Yedioth Ahronoth publisher and owner Arnon Mozes) and 3000 (regarding Israeli officials possibly receiving bribery in a deal to purchase German submarines) for the moment, instead choosing to focus on the gifts case with meetings planned for early next week in order to bring it to a swift close, before the recommendations bill is passed.

Police are also expected to call MK David Bitan—one of the chief advocates of the recommendations bill—to testify next week in an inquiry relating to his time as Rishon LeZion deputy mayor.

A final date had not yet been set, but some within the police are seeking to grill the Netanyahu loyalist on Sunday or Monday, when he is expecting to attend the second and third reading votes on the bill.

Responding to developments, Netanyahu posted on his Facebook page that, "This is yet another attempt to revive a story, containing nothing, by false and illegal leaks that also contain nothing. The public has long since had its fill with the organized media campaign whose aim is bringing down Prime Minister Netanyahu and bring about regime change not through the ballot box. We reiterate: there won't be anything because there isn't anything."

Arnon Mozes is the publisher and owner of Yedioth Ahronoth Group, which includes Ynet.