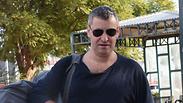 Stas Misezhnikov
Photo: Avihu Shapira
Former tourism minister Stas Misezhnikov, who was convicted of fraud and breach of trust, arrived at the Hermon Prison on Sunday morning to begin serving his 15 month sentence.

Misezhnikov signed a plea bargain, conceding that he acted in a serious conflict of interest during his term in office, transferring NIS 1 million from Tourism Ministry funds to the Eilat Funjoya Student Festival in 2010, and at the same time recommending that the festival organizers employ Yulie Roth, with whom he had a close and discreet relationship.

In addition to time in prison, the court also sentenced Misezhnikov to six months of probation and ordered him to pay a fine of NIS 70,000.

After the approval of the plea deal, Misezhnikov told the judge: "I confess and I'm very sorry. I take full responsibility for my error in judgment. I'm far from being a corrupt man. There are no patterns here. I'm paying a heavy price even today. Now, I'll have to start everything anew. But I'm determined after having taken responsibility for committing the offense to rehabilitate my life and the life of my family."

According to the amended indictment, Misezhnikov personally promoted the festival with the support of the Ministry of Tourism and demanded that the Director General of the ministry keep him abreast of progress on the approval of the festival's funding.

The former politician did not disclose his connection to Roth, who was employed by Peles Group (the producer of the festival) following his recommendation as Tourism Minister, and the fact that Roth is supposed to receive money for her work in producing the festival—roughly NIS 100,000 in salary.

Misezhnikov, the State Prosecutor's Office announced, took advantage of his senior public position and high standing to arrange lucrative ventures for Roth, and in so doing, committed fraud and an act of breach of trust that harms the general public.

Misezhnikov was initially also charged with bribery, disruption of proceedings and possession and use of an illegal narcotic (cocaine). These charges were retracted of as part of the plea deal.