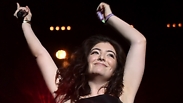 Songstress Lorde, one of the world's most successful and esteemed pop artists in the past few years, will be arriving to Israel to give a single performance on June 5, 2018, at the Tel Aviv Convention Center, with a refreshing innovation: There will be no golden ring complex where fans get to clamor in earshot of the star for an exorbitant sum.

The presale price for tickets will be NIS 289 (about $82), but will later increase to NIS 329. Lorde's performance will be part of a tour promoting her upcoming album "Melodrama", set to be released next summer.

The New Zealand crooner first made a splash in 2013, when she was only 17, with her debut hit single "Royals." The song became inescapable and won Lorde two Grammies as well as MTV and Brit awards.

"Royals" also helped Lorde become the youngest singer in 30 years to have a number one song on the American Billboard Hot 100 chart, where it stayed on top for nine consecutive weeks.

Lorde's debut album, "Pure Heroine," was critically acclaimed and included such ditties as "Team", "Glory and Gore", "Ribs" and many others. Her second album was released this past June, with such toe-tappers as "Perfect Places", "Green Light" and more.

A live rendition of 'Royals'

Lorde was also given the chance to perform the theme song for the hit movie "The Hunger Games: Mockingjay" and is nominated for the 2018 Grammies, in a ceremony taking place January 28.

Just in case you were wondering, Lorde's real name is Ella Marija Lani Yelich-O'Connor, which makes it all the more clear why you chose the pithier mononym.

Lorde's concert will be produced by the Naranjah production company, which has brought such illustrious acts as alt-J, Pete Doherty, Tame Impala and Radiohead to Israel.