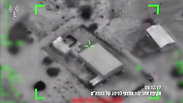 One of the sites targeted by the IDF
Photo: IDF Spokesperson's Unit
Video shows IDF's retaliatory attacks on 40 Hamas targets
IDF Spokesperson's Unit publishes video showing IDF attacks on 40 Hamas targets in past 2 weeks, retaliation to recent rocket, mortar launched from Gaza Strip at Israel; all targets had high operational value, army says, countering claims they were insignificant.
The IDF Spokesperson's Unit released a compilation video Monday showing Israel's attacks on Hamas targets in the Gaza Strip over the past two weeks, as part of the army's retaliation to the rocket and mortar fire leveled at Israel.

The army has attacked 40 targets since December 7, using both air force fighter jets and tank fire.

Among the installations targeted by the IDF were armaments storages, facilities for manufacturing weapons, observation towers, training compounds and routine security outposts. All of the targets belonged to Hamas, which effectively rules the strip.

The IDF's compilation video of the attacks (צילום: דובר צה"ל)

Some 30 rockets and mortars were launched from the strip at Israel in the past two weeks, with Israeli communities on Gaza's perimeter once again coming under fire on a near daily basis. The Gaza fire was carried out in the wake of US President Donald Trump's recognition of Jerusalem as Israel's capital and the exposure of Hamas's terror tunnels.

The IDF unveiled the footage of the combined attacks to deter Hamas, but also to counter claims made by some Israelis purporting the army's attacks are carried out against insignificant targets with little operational value.

A rocket exploded when it hit a home in the Hof Ashkelon Regional Council Sunday. The residence and a nearby car were damaged. No one was hurt. Another rocket detonated in an open area in a nearby community.