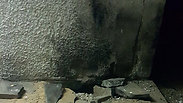 Two rockets fired from Gaza at Israel, no injuries reported
Rockets fired from the Gaza Strip into Israel, with one crashing down near a home in Hof Ashkelon Regional Council; damage caused to a house, but no injuries reported; rocket is the 18th to have been launched at Israel from Gaza since Trump recognized Jerusalem as Israel's capital.
Two rockets were fired Sunday night from the Gaza strip, with one exploding near the Hof Ashkelon Regional Coucil near the Gaza border, less than a week after multiple rockets were fired at southern Israel.

The second rocket landed in an open, uninhabited field nearby.

A residential home suffered damage from the rocket, but there were no casualties in the launch—the 18th to have taken place since President Donald Trump announced Washington's recognition of Jerusalem as Israel's capital.

The attack comes just days after the IAF attacked three Hamas targets in the Gaza Strip last Thursday in response to four rockets that were fired at Israel hours before.

A Code Red Alert was sounded at 8:48pm moments prior to the landing in the Hof Ashkelon Regional Council and resident of the area reported they heard a large explosion shortly after.

Tensions have remained high in recent weeks over Trump's announcement, with militants in the strip incensed by the move and using the opportunity to launch rockets indiscriminately at neighboring Israeli communities.

In a statement after the latest provocation, Tamir Idan, head of the Sdot Negev regional council, said: "This evening, again, a red alert sounded in the communities surrounding the Gaza Strip, and this time there is also damage to the homes of residents, though thank god no one was hurt."




"We expect and demand that the security forces respond with force and make it clear to the terrorists that the State of Israel is determined not to allow the continued firing," he added. "We are not prepared for the state of emergency to become routine in our lives, and need to say clearly that we are strong and determined (to fight against it—ed)."

Maya, whose house was hit by the rocket, told Ynet that she and her family "returned from lighting Hanukkah candles when the siren caught us at the entrance to the house. We ran to the bomb shelter, me, my husband and my two sons, and then there was a huge explosion."

"My car was destroyed by shrapnel," she added, lamenting that "unfortunately, we are experienced in this. The children are in shock, but we are in control."

On Friday, Defense Minister Avigdor Lieberman reiterated his claims that the recent barrage of rockets were not the result of an emboldened Hamas and a diminished Israeli deterrence, but rather the result of internal feuds that have ensued following the reconciliation agreement between Fatah and Hamas.

But despite the narrative, southern Israeli residents have become increasingly frustrated with the notion that Code Red Alerts are rapidly becoming a norm in their daily lives.