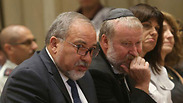 A bill by Defense Minister Lieberman (L) is at odds with AG Mandelblit
Photo: Alex Kolomoisky
Attorney general opposes death penalty for terrorists
Mandelblit to submit updated opinion on death penalty for terrorists bill proposed by Defense Minister Lieberman this week, expected to oppose it; judiciary officials say Western countries tend to abolish penalty rather than add to it, fearing irreversibility of punishment; only two men executed in country's history: one falsely convicted by military tribunal, while the other was Nazi criminal Eichmann.
Attorney General Avichai Mandelblit is expected to oppose Defense Minister Avigdor Lieberman's legislative initiative sentencing terrorists to death.

Mandelblit has objected in the past to an initiative floated by Justice Minister Ayelet Shaked seeking to levy the same sentence on child murderers.

Historically, all of the country's attorneys general have objected to the death penalty, despite the fact it has existed and continues to exist in both civilian and martial codices.

The attorney general's original opinion, submitted to Prime Minister Benjamin Netanyahu and members of the Ministerial Committee for Legislation over a year ago following then-MK Lieberman's proposal, determined the death penalty was not a deterrent when it came to terrorists. Mandelblit's updated opinion will be submitted sometime this week, once again resisting capital punishment.

The judicial system maintains a clear and present trend among the countries in the developed world is to abolish the death penalty. "More than two thirds of the world's countries have abolished capital punishment. In the European Union, for instance, it's completely banned," judiciary sources said.

The only Western country to still carry out death sentence is the United States. "But even there, states have begun abolishing it, with only 31 states having capital punishment on their books today. Seven states abolished it in the past decade alone," the source said.

Mandelblit said Lieberman's bill did not stack up to Israel's official statements on the death penalty before international forums and the United Nations Human Rights Council's stance on Israel. The bill is therefore expected, he said, to spark international criticism.

It was further intimated by the country's highest legal authority that an irreversible punishment should be avoided. He also stressed offenses carrying a penalty of death were enacted before the enactment of Basic Law: Human Dignity and Liberty, whose interpretation prohibits the death penalty. Mandelblit further determined that in light of the aforementioned reasoning, the bill aroused significant constitutional doubts.

The attorney general's opinion also described the current state of affairs in Israeli legislation, with only a limited number of offenses punishable by death, including those delineated in the Nazis and Nazi Collaborators (Punishment) Law, treason in the criminal code and certain offenses in the law governing military tribunals.

All of the above were enacted before Basic Law: Human Dignity and Liberty and most of them stem from Mandatory legislation, absorbed into Israeli law at independence. Mandelblit also noted that throughout the country's almost 70-year history, the death penalty was carried out just twice: a 1948 drumhead court-martial finding Meir Tobianski guilty of treason and executing him by firing squad—Tobianski was later exonerated of all charges—and Nazi criminal Adolf Eichmann's execution in 1962.

In addition, alleged Nazi criminal John Demjanjuk was convicted and sentenced to death by a district court but later acquitted on appeal by the Supreme Court.

Eichmann's case attested to the fact that since its inception, Israel has chosen to use the death penalty only on the most heinous of crimes—genocide. Tobianski's case, meanwhile, and to some extern also Demjanjuk's, reflect the problematic nature of the punishment—the possibility of a mistaken verdict imposing an irreversible sentence.