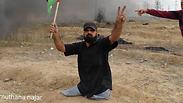 A senior UN official said on Tuesday that Israel's killing of a disabled Palestinian man protesting against US President Donald Trump's recognition of Jerusalem as Israel's capital was "incomprehensible", but Israel said he had not been targeted.

A statement issued by Zeid Ra'ad al-Hussein, the UN High Commissioner for Human Rights, said wheelchair-bound Ibrahim Abu Thurayeh was shot in the head by Israeli security forces close to the border fence with Israel on Friday.

Abu Thuraya, killed in the "day of rage" protests on Friday, was one of the regular protesters on the Gaza border. The Palestinians claim he was killed when a "sniper shot him in the head," while IDF officials said soldiers are instructed, according to the rules of engagement, to shoot main instigators only in the lower body area.

But the Israeli military later said its own investigation had found that it was not possible to say what had killed Abu Thurayeh and that no live fire had been directed at him during the dispersal of the violent demonstration.

"No live fire was aimed at Abu Thurayeh. It is impossible to determine whether Abu Thurayeh was injured as a result of riot dispersal means, or what caused his death," part of the military statement said.

It added that protesters hurled explosive devices and rocks and rolled burning tyres "with the aim of harming soldiers and destroying security infrastructure" and that non-lethal riot dispersal means were mainly used, although a few live rounds fired under supervision were aimed "towards main instigators."

Zeid said there was nothing to suggest Abu Thurayeh was posing an imminent threat when he was killed and "the facts gathered so far by my staff in Gaza strongly suggest that the force used against (him) was excessive."

"Given his severe disability, which must have been clearly visible to those who shot him, his killing is incomprehensible and a truly shocking and wanton act," Zeid's statement said.

The Israeli military statement said "numerous requests" for information on Abu Thurayeh's wounds had not been answered and that "if additional details are received, they will be examined and studied."

Gaza medical officials said on Friday that Israeli troops had shot dead four people, including Abu Thurayeh, and that 150 others were wounded by live fire during the protests.

Most of the casualties were on the Gaza Strip border. In the West Bank, the Israeli military said about 2,500 Palestinians took part in riots against soldiers and border police officers.

Abu Thurayeh, 29, was a regular at such demonstrations and considered by Israel as a prime agitator. In media interviews, he had said he had lost both his legs in a 2008 Israeli missile strike in Gaza.

Zeid's statement said the Israeli response had resulted in five people being killed, including three deaths in Gaza, as well as more than 220 injured by live ammunition.

International law strictly regulates the use of force in the context of protests and demonstrations, and the lethal use of firearms should only be employed as the last resort when strictly unavoidable in order to protect life, Zeid said.

"These events ... can sadly be traced directly back to the unilateral US announcement on the status of Jerusalem, which breaks international consensus and was dangerously provocative," Zeid said, calling for an independent investigation into the casualties.