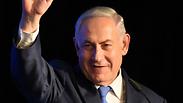 Netanyahu is in such a bad state that he is willing to lean on anything
Photo: Kobi Richter/TPS
When you're Benjamin Netanyahu, lying is okay
Op-ed: Tuesday evening's speech was a milestone in Netanyahu's delegitimization campaign against police recommendations; after failing to thwart the recommendations through a bill initiated by MKs Bitan and Amsalem, he is trying to thwart them through speeches and lies.
A prime minister has never been sent to jail for lying. Lying for the Land of Israel is okay, and the Land of Israel is me—Benjamin Netanyahu.

At the climax of his speech Tuesday night at the Kfar Maccabiah convention center, the prime minister told his listeners about what the Israel Police had done to President Reuven Rivlin ("Boo," the crowd chanted when his old friend's name was mentioned). The police, Netanyahu said, recommended that Rivlin be indicted, and the attorney general tossed the recommendations in the trash.

The police did launch seven different probes against Rivlin. It was in 2001, 16 years ago. At the end of the investigation, which lasted years, the police recommended that all the seven cases be closed, six for lack of guilt and one for lack of public interest. Attorney General Menachem Mazuz, today a Supreme Court justice, decided to accept the police recommendation and close the cases. There was a delay of justice, and that's a shame, but there was no distortion of justice. Netanyahu lied.

That doesn't mean that every police recommendation should be accepted. Absolutely not, neither from a legal perspective nor from a public perspective. But it does mean that Netanyahu is in such a bad state that he is willing to lean on anything, even on his bitter enemy Rivlin, even on something that never happened.

Tuesday evening's event was a milestone in Netanyahu's delegitimization campaign against the police recommendations. After failing to thwart the recommendations through a bill initiated by Knesset Members David Bitan and David Amsalem, he is trying to thwart them through speeches.

He has a double goal: To neutralize the expected public damage following the police recommendations and, most importantly, to create the impression that Attorney General Avichai Mandelblit's desk will be covered next month with a pile of stillborn files. According to Netanyahu's version, the police are one thing and the State Attorney's Office is another thing. The State Attorney's Office will start working on the different cases from the very beginning, from scratch.

That's a lie, of course. The discussions at the attorney general's office are the end of a process, not the beginning. The police investigations against Netanyahu were conducted with the very active participation of an overseeing prosecutor, Liat Ben-Ari. When questions were raised, they were brought to State Attorney Shai Nitzan and AG Mandelblit, who decided on them. These three people were not accidental observers in the investigation's management; they were full partners.

It's no coincidence that the outgoing head of the Police Investigations and Intelligence Department, Major-General Meni Yitzhaki, had so much praise for the heads of the State Attorney's Office in his farewell speech about two weeks ago.

"I watched the way you handled the burning dilemmas on your desk. It takes courage, and you have courage," he said to Mandelblit. Moving on to Nitzan, he said: "The shrewd and witty Shai, always sharp and to the point, challenging as always." And he referred to Liat Ben-Ari as "woman of the year," saying that "the entire 1000 cases series, everything that is known and everything that is still secret, it was all managed by you."

By you—in other words, by the State Attorney's Office.

The police will hand over their files and recommendations next month. Mandelblit and his team will reread the files, ask the police for additional material if needed, listen to Netanyahu's version in a hearing with his lawyers and make their decisions.

The police recommendations in Case 1000 (which concerns illicit gifts allegedly received by Netanyahu and his wife), and perhaps in Case 2000 (which focuses on an alleged deal between Netanyahu and Yedioth Ahronoth publisher Arnon Mozes) too, will likely include bribery charges. There's no guarantee that the attorney general will accept them word for word. The evidence against Netanyahu could be presented in different ways, from a rebuking public report with no teeth to serious bribery charges which will lead to a political earthquake.

Previous prime minister clashed with attorney generals who were not appointed by them. Mandelblit was appointed by Netanyahu after serving as his cabinet secretary. This episode casts a shadow on every decision the AG makes. On the other hand, he sees Netanyahu's campaign against the law enforcement system and hears his former boss lying like a criminal. The decisions awaiting him are not simple.

Netanyahu will try to bargain. His speech Tuesday evening marked the bargaining limits. His message was directed at the AG: The police will say bribery, I'll say there's nothing and you'll suggest something in the middle. Breach of trust, for example. This faltering clause in the law, which says a lot but actually says nothing, will place me in an unpleasant situation. I'll cry out against it from every stage, but it won't force me to resign. At the most, I'll call elections, get reelected and come back.

Because I am the prime minister, and you shall have no other prime ministers before me.