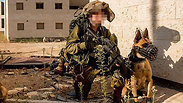 Training in Tze'elim's 'Palestinian neighborhood'
Photo: IDF Spokesperson's Unit
Kfir Brigade prepares for war with Hamas
While most of the Kfir Brigade's battalions were sent to West Bank, northern front during Operations Pillar of Defense, Protective Edge, its role has now been transformed to tackle the threat posed by Hamas, today and in future; 'Let others focus on Lebanon. We will be the best in Gaza. We will fight, win and maintain our humanity,' says the brigade's commander.
The IDF combat units slogan of "War tomorrow"—meant to keep the fighters from getting bogged down by routine—has recently taken on a new meaning among soldiers of the Kfir Brigade.

Echoes of the explosions of dozens of rockets launched at Israel from the Gaza Strip recently were audible in the urban warfare section of the Tze'elim training base in southern Israel, where a stand-in for a Gaza neighborhood was in place to help soldiers better prepare for the potential conflict to come.

The brigade, in fact, is preparing for something it has never fully attempted in the past: a Gaza ground offensive.




During Operations Pillar of Defense and Protective Edge, only a single battalion from Kfir—the IDF's largest brigade—was sent to the southern front. The others were relegated to routine security operations either in the West Bank or on the northern border.

The seeming lack of confidence in the brigade's competence caused consternation among the unit's battalion commanders and fighting men, and further tarnished the image of the unit—already considered the army's "step child." It seems now, however, things are different.

Six months ago, IDF Chief of Staff Gadi Eisenkot placed Kfir Brigade Commander Colonel Tzion Razon in charge of the Palestinian front, both in Gaza and the West Bank. This effectively mean that more than other units, Kfir has been developing its expertise in dealing with Hamas, rather than Hezbollah.

As part of said mission, Kfir soldiers have been training for threats they can expect to encounter in Gaza, such as tunnels and the possibility of kidnapping. The unit is also creating a new reconnaissance battalion, named Haruv after a defunct historical unit, which will use special mechanisms to fight underground. The new battalion's soldiers will also undergo training for scouting, explosives and anti-terrorism missions.

"I want us to be the best in urban warfare… and let the other brigades have the advantage in Lebanon," said the brigade commander in an interview with Ynet. "Hamas has evolved since Operation Protective Edge; it is more organized and disciplined and operates with platoons, companies and battalions. There are pros and cons to an enemy with a hierarchy."

"We translate these things into training and intelligence that each of our squad commanders receive. They receive a small map of the specific target house they are expected to overtake, enclosed with coordinates and the enemy's point of view," he said.


"We are not minimizing the threat posed by the tunnels but there are other dangers in Gaza, such as advanced anti-tank rockets, hidden explosives and rocket fire. Hamas militants can pop out of anywhere and open fire. Hamas takes more initiative and behaves more offensively than in the past.

"During one of the training scenarios, after the company had conquered their target at 2am, they were hit by a surprise attack, with many casualties, and the company commander was required to deal with it. We must not wait for the enemy: if we are not alert during the next war, we will be hit hard," said the colonel.



Doubling hand-to-hand combat training
The Chief of Staff's new role for the brigade was quickly translated into action: during basic training, all new recruits are already receiving a month of urban warfare training, with some of them even taking a course on Arabic language and culture at a newly opened instruction center at the brigade's training base in the Jordan Valley.

"They learn more than just checkpoint Arabic, and focus more on urban warfare than on rocky terrain combat," added Colonel Razon. "Kfir soldiers receive twice as much hand-to-hand combat training as other units since there is a decent chance that they will have to fight terrorists from point-blank range, where a gun will not be sufficient."


Colonel Razon began his career in the Nahal Brigade and previously held several positions in the army's Northern Command. He believes in open communication with his subordinates and expects them to speak up if something seems wrong during a briefing.

Military intelligence believes that Hamas is investing more in its tunnels inside of Gaza, as they have earned the terrorist organization with the biggest return during Operation Protective Edge: nabbing the bodies of Hadar Goldin and Oron Shaul.




"The soldiers are trained to believe that there is 'no such thing as a kidnapping,' they must do all in their power to prevent it, and the most important part of that is staying alert, walking in pairs and working in large groups," said Colonel Razon. "If anyone suffers wounds, they are treated, but we advance. I have four children, three will receive combat postings and I expect of their commander to do everything possible to bring them home."
The lessons of the Elor Azaria case
The brigade is using the most advanced military equipment, similarly to the rest of the IDF's elite units, with every company commander having an unmanned aerial vehicle (UAV) at their disposal, but as far as the colonel is concerned, one of their most important 'weapons' is their battlefield ethics. Various incidents of ethical breaches involving Kfir fighters came to light through the years, such as the killing of a neutralized terrorist by Elor Azaria in Hebron.




Part of their training, in fact, now includes a session on dealing with noncombatants in Gaza. In the training scenario, soldiers are tasked with evacuating civilians from a hospital being used by the enemy to fire at IDF forces.

"We do not want to harm innocents… We learn how to deal with Palestinians who are being difficult at a checkpoint. We learn the lessons of previous incidents and we intend to actualize the brigade's slogan: 'We fight, we are victorious, and we will maintain our humanity,'" says Colonel Razon.