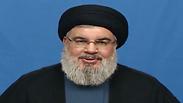 Hezbollah chief Nasrallah
Nasrallah 'proud of delivering anti-tank missiles to Gaza'
Hezbollah secretary general dismisses allegations of being behind Yemenite missile launch at Saudi Arabia, but boasts about delivering anti-tank missiles to Gaza, using own weapons in Syria; 'Single greatest threat to Lebanese security, stability is Israeli occupation,' Nasrallah says, before decrying Saudi 'normalization' with Israel.
Hezbollah Secretary General Hassan Nasrallah boasted in a speech Monday that his organization shipped anti-tank missiles to the Gaza Strip. "I'm proud and honored to say we sent Kornet missiles to the Gaza Strip. We're using our own weapons in Syria as well," he said.

The Hezbollah chief was nevertheless dismissive towards allegations his organization was responsible for the ballistic missile recently launched from Yemen at Saudi Arabia by Iran-affiliated Houthi rebels.

Nasrallah also complained that while no Israeli attack has thus far caused the Arab League's foreign ministers to convene, a single missile launched at Riyadh led to a special session of Arab countries' organization.

Touching on Lebanon's political turmoil following the surprise resignation of Prime Minister Saad al-Hariri, Nasrallah remarked, "I wish to remind (the Arab League ministers) and public opinion that the single greatest threat to Lebanese security and stability is the Israeli occupation. Likewise, the most important factor contributing to Lebanon's liberation is resistance, and the backbone of that resistance is Hezbollah."

Nasrallah also went on to bemoan the Arab League's decision to recognize Hezbollah as a terrorist organization. "I thank the Palestinian factions for their responses to the Arab League decision marking Hezbollah as a terrorist organization. The excitement we can now see within the Arab world is covering for relations with Israel."

Nasrallah added that IDF Chief of Staff Gadi Eisenkot's interview with the Saudi Elaph newspaper was "an especially grievous move as it pertains to normalization with Israel."

"I call on all the Arabs, all Muslims, the Palestinian people and the Lebanese people. You can listen to Israel's responses on its relations with Arab states and mutual visits, coordination and so on, especially with Saudi Arabia. No denial has been made on this issue," Nasrallah accused.

Nasrallah also ridiculed Saudi Minister of Foreign Affairs Adel al-Jubeir. "O Jubeir, O Khaled—I don't remember what your name is—resistance is the most important factor in upholding Lebanese stability. Are you going to defend Lebanon from Israel?" he asked, before calling on the Saudi kingdom to "stay out of Lebanon's affairs."