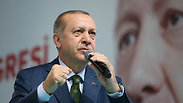 President Tayyip Erdogan
Photo: AP
President Tayyip Erdogan told the United States on Thursday it could not buy Turkey's support in a vote at the United Nations General Assembly on Jerusalem, and said he hoped the world would teach Washington a lesson.

"Mr. Trump, you cannot buy Turkey's democratic will with your dollars", Erdogan said after US President Donald Trump threatened to cut aid to countries that support a draft UN resolution calling for the United States to withdraw its decision to recognize Jerusalem as Israel's capital.

"I hope and expect the United States won't get the result it expects from there (the United nations) and the world will give a very good lesson to the United States," Erdogan said in a speech in Ankara.

Earlier on Thursday, Prime Minister Benjamin Netanyahu slammed the United Nations, calling it a "house of lies" ahead of a vote on a resolution expected to pass at the General Assembly that criticizes Trump's Jerusalem declaration.

The 193-member General Assembly will hold a rare emergency special session on Thursday at the request of Arab and Muslim states on Trump's decision, sparking a warning from Washington that it will "take names."