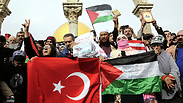 Turkish and Palestinian flags near the Temple Mount
Photo: AP
Three Turkish tourists were arrested on the slopes of the Temple Mount in Jerusalem on suspicion of assaulting police on Friday. They were released without charge on Saturday.

Turkish paper Daily Sabah reported eye witness accounts purporting the Israel Police prevented a delegation of Turkish tourists—some of them children—to enter the Temple Mount complex.

Some of the tourists wore shirts emblazoned with the Turkish flag, the witnesses said, while others wore traditional Ottoman headdresses.

Bystander video appeared to show Israeli police detaining several fez-wearing men and boys in the walled Old City of east Jerusalem.


The Turkish Anadolu state-run news agency reported the Turkish group arrived to Israel from Belgium and held dual Belgian-Turkish citizenships.

Anadolu further said eye witnesses maintained the cops told the Turks they would have to remove their shirts if they wanted to enter the complex, and when the tourists refused a scuffle broke out.

A diplomat from the Turkish consulate in Jerusalem arrived to the police station where the group was detained, the state-run agency said.

Israel Police spokesman Micky Rosenfeld said the three Turks had tried to reach Al Aqsa Mosque, Islam's third-most important shrine, where "they planned on taking part in a demonstration" against US President Donald Trump's recognition of Jerusalem as Israel's capital.

Rosenfeld said the three Turks "carried out an assault on police officers there." He did not elaborate on the circumstances, other than to say there were no casualties.

Brought before Jerusalem Magistrate's Court on Saturday, the men did not speak from the dock. Two of them flashed four-finger hand gestures that appeared to be the so-called "Rabia sign" of solidarity with Egypt's ousted Muslim Brotherhood.

The Turks' Israeli defense lawyer, Nick Kaufman, said police asked the court to keep them in custody so charges of assaulting a police officer and resisting arrest could be brought.

"It was obvious that this was a politically charged case and the judge rightly released them," Kaufman told Reuters.

The Turkish party's arrest may further sour relations between Israel and Turkey. Despite a reconciliation agreement between the two countries in the wake of events surrounding the Marmara flotilla to Gaza, and despite the decision to completely normalize relations, Turkish President Recep Tayyip Erdoğan has continually and scathingly attacked Israel over the past year.

Since President Donald Trump's declaration recognizing Jerusalem as Israel's capital, Erdoğan has tried to position himself as the leader of the bloc opposing the declaration, and has voiced harsh anti-Israeli sentiments over the past two weeks.

The Turkish president said Israel was a "child-killing terror state" and promised not to "abandon" Jerusalem to Jewish hands. On the American threat to halt assistance funds to countries voting against the decision to recognize Jerusalem as capital in the United Nations, Erdoğan replied, "Trump, you can't buy us with your dollars."