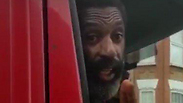 Truck driver in anti-Semitic attack
Only days after a video made the rounds online of a German man praising Nazi leader Adolf Hitler and the Holocaust, a similar anti-Semitic incident was documented in London on Friday.

A truck driver passing through the neighborhood of Stamford Hill in the British capital leveled a verbal anti-Semitic attack against one of its Hasidic residents.

"Hitler was a great man, he knew what he was doing," the driver, apparently from the Caribbean, told an ultra-Orthodox Jewish resident of Stamford Hill.

"You think you own the world? You don't own the world. This is Stamford Hill, it's not Israel," the truck driver added before driving away.

The incident occurred shortly before the beginning of Shabbat.

Stamford Hill is considered one of London's ultra-Orthodox Jewish neighborhoods. Because the neighborhood residents are easy to identify as Jewish because of their clothing, they have experienced many anti-Semitic incidents over the past year.

In 2016, a record number of anti-Semitic incidents were reported in Britain, which prompted the British government to allocate 11 million GBP to fighting anti-Semitism and strengthening the security of Jewish British citizens.