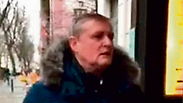 The German man was arrested by police
German man filmed in anti-Semitic attack against Israeli restaurateur
German man filmed hurling anti-Semitic invective at Jewish-Israeli restaurateur in Berlin; 'Filthy Jews, you can all go to the gas chambers,' he told Israeli; anti-Semitism must be combated, or talk could lead to action, says German minister.
A 60-year-old German man was filmed accosting restaurateur Yorai Feinberg (36) in Berlin and hurling anti-Semitic invective at him merely for being an Israeli Jew, the German paper Bild reported.

The video, titled "Six minutes of Jew hatred" by the German paper, was filmed by Feinberg's girlfriend Camilla Thomas (30). It showed the German man telling Feinberg, "You don't belong here. Filthy Jews, you can all go to the gas chambers. This is my land, my country. No one will protect you here."

When the man observed the Hanukkah menorah placed in the restaurant's display window, he cried out, "This thing doesn't belong here, in our system."

Footage of the anti-Semitic incident (צילום: שגרירות ישראל בגרמניה)

Feinberg quickly called the cops, who arrested the German. He later told the German B.Z. paper, "These anti-Semitic attacks happen on a daily basis, unfortunately. I'm very saddened by them and, in fact, find myself asking the same question the attacker asked me—what am I doing here? I oftentimes wonder about my continued existence here."

Israel's Ambassador to Germany Jeremy Issacharoff watched the video and was shaken to his core. On Thursday morning he arrived at Feinberg's restaurant, flanked by the mayor of Berlin's Tempelhof-Schöneberg borough Angelika Schöttler. Issacharoff iterated his support for Feinberg and praised him for the daring he had shown.

"Anti-Semitism is anti-Semitism regardless of where it comes from and who voices it. Every member of German society should rise up against any form of racism, anti-Semitism and anti-Israeli sentiment. It saddens me this incident even took place, let alone on German soil. I hope this show of solidarity will be a clear-cut message of zero tolerance to such cases," Issacharoff said.

Germany's Federal Minister of Justice and Consumer Protection Heiko Maas also commented on the incident, saying, "This intolerable and inconceivable occurrence merely shows that we should all adamantly and courageously battle anti-Semitism. We mustn't give ground to those who would incite, because talk may be followed actions."