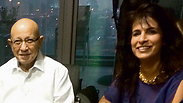 Attorney Nitsana Darshan-Leitner and late Mossad chief Meir Dagan
How the Mossad and I took on terrorism financing
In a new book published in the US, Israeli lawyer Nitsana Darshan-Leitner reveals how she was entangled in operations with members of the Harpoon unit, a covert financial counterterrorism taskforce that has dealt heavy blows to Hezbollah, Ismail Haniyeh, Yasser Arafat and Lebanon's banks.
He is known in the world as "the Lebanese Madoff," but 10 years ago he was still called Salah Ezz al-Din: A rich businessman closely associated with Hezbollah. How close? He owned the publishing house of textbooks used in the organization's schools. The publishing house was named Hadi Nasrallah after the Hezbollah secretary-general's son, who was killed in a battle with IDF soldier. He wasn't a person Hezbollah would suspect.

In 2007, Ezz al-Din flew to the Persian Gulf emirates in search of investments. Major funds for southern Lebanon's reconstruction began flowing in from Iran after the Second Lebanon War, and his high-ranking friends from Hezbollah looked for a good place for him to grow in. It is unknown to this very day who was the contact who had given Ezz al-Din the option of promising investments, but it is clear that he had made a deep impression on him.

He invested millions of private dollars and soon began earning a lot. He started an investment firm and recruited more and more investors who enjoyed the money—thousands of the organization's supporters in southern Lebanon, senior Hezbollah commanders and even the secretary-general himself, Hassan Nasrallah, who invested hundreds of millions of dollars in the initiative.

One day, it was all over. A senior Hezbollah commander's check bounced. Ezz al-Din thought it was a mistake, called the bank and was told that the account was empty. All the other banks too informed him that his money had been emptied out. He called the company in Dubai and got no answer. Ezz al-Din discovered that his partners in the Persian Gulf had disappeared with about $1 billion, mostly from Hezbollah's funds. Now try and explain that one to Nasrallah.

The Shiite organization's serious investigations revealed nothing—Abu Madoff was unable to tell them where the money had gone. "In Tel Aviv, however, people didn't appear surprised by what happened. Hezbollah had been in (former Mossad chief) Meir Dagan's crosshairs," says attorney Nitsana Darshan-Leitner.

Darshan-Leitner is the co-author of "Harpoon: Inside the Covert War Against Terrorism's Money Masters", which was published in the United States in early November and unveiled the Harpoon unit—the Israeli intelligence body responsible for the war on terrorism financing, mainly that of the Palestinians and Hezbollah.

"In the Arab world, people suspected Israelis had done it, but there was no way of proving it," she says about the Lebanese Madoff affair. "They still don't know what happened to this very day, but according to foreign reports that blamed Israel, there is a certain likelihood that it was a Harpoon operation."

Darshan-Leitner, who wrote the book together with author Samuel M. Katz, knows what she's talking about. Not only did she interview senior intelligence officials from the mysterious intelligence body for the book, including the person who was in charge of it for many years—former Mossad director Meir Dagan—but she was also very involved in it herself.
A meeting with the 'KGB'
One day, in 2002, the phone rang in her office. On the other end, she heard a man's voice. "Hello, Nitsana?" he said. "He gave me his name, told me he was from the National Security Council (NSC) and said they wanted to meet, to talk," Darshan-Leitner recounts. "I was shocked. We set a time and place, and then he said: 'Don't tell anyone about the meeting, don't put it down in your diary, don't write down my name or the details of place."

Darshan-Leitner is a lawyer and the mother of six from Modi'in, but she was never part of the intelligence community. She didn't even go the army, but did national service instead.

"A few days later, I arrived at a Tel Aviv building with heavy security arrangements. Regular offices, a corridor. It looked like something governmental. It was probably a Mossad building, but I didn't know that. I was led to a room, and the man who spoke to me on the phone introduced himself. He was of Russian descent, and I later referred to him as KGB. He introduced me to two other people, who wanted me to tell them 'what exactly you people do.'"

Darshan-Leitner told him about Shurat HaDin, a Jewish human rights organization she heads, which offers legal assistance to victims of terror attacks against terrorist entities and bodies funding terrorism. The organization hires the services of law firms and sues bodies in the United States, Canada or Europe that have assets or money in those countries and have directly or indirectly contributed to acts of terror. Up until then, Shurat HaDin had already sued Iran and Hamas and managed to get American courts to impose a lien on their funds.

"I told them everything: How's it's done, what has to be taken into account, against who we can act, in which kinds of courts, in which countries, who are the victims, who are the players, how much money can be received in those rulings, how the funds can be seized. When I was done talking, there was silence. One of them raised his head, looked at me and said scornfully: 'So what will you do? Harm Hezbollah's checking account? Reduce their credit rating?'

"I explained that the idea was based on a US organization that aided poverty-stricken communities in the southern US. It was a human rights organization that acted against neo-Nazi organizations in the US and helped families hurt by the activities of skinheads, primarily black families. It would file lawsuits against them, prove their responsibility for different actions, receive a verdict and seize their bank accounts, rent, property, harming them financially and leading to their collapse. I explained, but they weren't really impressed.

"We ended the conversation and each went our own way. Immediately afterwards, we received a verdict in the US against Hamas. At the same time, the State of Israel had taken money from Palestinian banks in the territories and we asked the court to forfeit those funds to implement the verdict against Hamas. This was where our paths crossed again.

"I got another phone call from that KGB guy to come and meet with them, this time in a café. I arrived and they asked me to brief them on that legal action—how we managed to seize Hamas funds. This time, they no longer disregarded what I had to say. They seemed to have realized that this thing had a strong basis and that it could succeed. The fact is that they returned with thoughts on how to implement this system on concrete issues related to them.

"Following that meeting, we had more and more meetings on different issues. During the meetings, we raised ideas: Is it possible to use legal action against a certain body? Is it possible to file more claims against the Palestinian Authority? Is it possible to file a claim against a bank account of Iran's national oil company in Rome? Is it possible to file a lawsuit against the Bank of China or a lawsuit against the Lebanese Canadian Bank?

"And so we started investigating the issue and looking into the possibility of doing so. And I still didn't exactly know who these people were. I thought they were graduates of the Mossad and Shin Bet. I didn't know they were part of a special unit which thwarts the funding of terrorism."
Millions in a suitcase
To understand how the Israeli war on terrorism financing started, we must return to the 1990s, when several Arab money couriers arrived at Ben-Gurion Airport from abroad and were caught with money for the Palestinian struggle. It was the first time the defense establishment realized that millions of dollars were being smuggled to Hamas and Palestinian Islamic Jihad, and that they were the driving force of the next terror attack.

Later, Iran joined the fray, embraced Hamas and introduced suicide bombings into the Palestinian arsenal. Iran became a financial sponsor: Funds were freely transferred to Lebanon, and from there to Hamas in Gaza and in the West Bank through the banking system. All this money was legitimate and no one stopped it.

"In 1995 buses were exploding, and Meir Dagan, who served at the time as the IDF chief of staff's advisor on terror and later as head of the NSC, realized that there was an open money trail intensifying the flames of terror," Darshan-Leitner recalls. "He contacted Prime Minister Yitzhak Rabin, and then Harpoon was established—a body comprised of representatives of the intelligence community.

"It included a Shin Bet representative, a Mossad representative, a Military Intelligence Directorate representative, agents—not finance people—and representatives from many bodies that are not all intelligence-related but that touch on intelligence and deal with money: the Tax Authority, the Finance Ministry, the Israel Police, the Coordinator of Government Activities in the Territories, customs.

"At first, Harpoon was part of the NSC, but at the time people were being murdered on the streets and no one in the intelligence organizations thought terror could be fought by trying to destroy those organization's financial infrastructure, so for years the initiative wasn't taken seriously."

But then the second intifada broke out, and Prime Minister Ariel Sharon appointed Dagan as Mossad director. The appointment didn't stop Dagan from remaining involved in his financial initiative.

"Sharon was famous for his hatred towards (then-PLO Chairman) Yasser Arafat, and there were documents proving that Arafat was taking money from donor countries and funneling it towards terror attacks. One of Harpoon's first activities was disconnecting Arafat from those funds."

The book describes a particularly sophisticated sting: "Arafat's money man, Muhammad Rashid, was invited to a South American country, where an investment firm was founded with that country's cooperation. It had luxurious offices and young, beautiful secretaries. Rashid was very impressed and decided to invest in the company. The return was very high, and he convinced Arafat to invest more and more money. The return increased, as he had expected, and he was promised fat commissions from the investment. Rashid and Arafat trusted their partners, and their appetites grew.

Then one day, Rashid called the company and the secretaries didn't pick up. The offices had been quickly deserted along with Arafat's money, more than $100 million."

It wasn't just about stings and manipulations. Harpoon offered Shurat HaDin assistance in its legal battle too, providing documents, banking material and targets that could be confronted in court.

"There was an interest, there were meetings, they studied what could be done, where we could sue and what could help me in court. Then we had to find a way to turn the material into legally admissible evidence. We became a legal tool that worked with them and they worked with us. We cooperated."

Where have you cooperated, for example?

"In 2005, Ismail Haniyeh, who was the Hamas prime minister in Gaza at the time, raised $40 million for Hamas in Iran. There was no way of transferring those funds through the banking system, as there is no such thing in Gaza, so he put everything in suitcases and took a flight from Tehran to Sudan, which is the route taken by all smugglers to this very day. In Sudan, he travelled with the money on a truck through Egypt. At the time, the border at the Rafah Border Crossing was under IDF control, and Haniyeh was allowed to go in and out, as a prime minister on diplomatic missions. He was certain he would have no problem getting in.

"The unit knew about the money. Meir Dagan said, 'Guys, he has $40 million and he wants to get into Gaza. How do we stop him?' All kinds of ideas were raised, like dressing up as Bedouin robbers and robbing him on the way, but they were rejected.

"When he reached the outskirts of Gaza, the IDF was warned not to let him in. Haniyeh said that he was prime minister and that both he and his suitcases had diplomatic immunity, but there was information that there was money in there. He stood at the border for several hours, and this led to a crisis. The Arab League rushed to help him, saying it would open a bank account under its name in Cairo, he would deposit the funds there and they would find a way to transfer the money to him a day or two later. The next morning, he deposited the money in the bank account they had opened—not before he put $5 million in his pocket—and entered Gaza.

Is that when you entered the picture?

"Yes, we got a phone call from the unit explaining the situation, and they asked if we had a way of stopping the funds from reaching Haniyeh. We had an American verdict against Hamas of more than $100 million for a terror attack. The plaintiffs were two orphans whose parents were killed by a Hamas cell in the Beit Shemesh area in 1996.

"The Arab League has an office in Washington, so the court there is authorized to discuss the claim, and we immediately filed a request to implement the verdict. The funds may have been in Egypt and we had no way of obtaining them, but a court could seize Arab League funds anywhere. The prosecution's claim was that the money in the Arab League account belonged to Hamas. We had a verdict against Hamas, so we said those funds should be handed over to us. The Arab League filed a request to dismiss the claim, arguing that the funds belonged to the donor states rather than to Hamas, as they had not been transferred to Gaza. In response, we provided a deposition from an official source elaborating on the entire affair."

How did you present it to the judge?

"I said it was a deposition from a representative of Israel's National Security Council."

And did the judge accept it?

"There are no investigations on depositions. The judge has to decide based on the documents presented to him. If he is convinced they are reliable and carry some weight, he decides. The judge accepted the deposition and the Arab League informed Hanieyh that they would not be transferring him the money."

Why does the State of Israel actually need your organization? Why doesn't it sue on its own?

"The state has varying considerations—foreign relations it has to take into account, international pacts it has signed, political considerations which occasionally change. So it doesn't want to get into it. It's easier for the state to refer it to private groups like us. One day the Palestinian Authority is an enemy, and the next day it's a partner for negotiations, and the moment you enter a legal proceeding—there's no turning back."
Bombing the banks
In addition to the activity against the Palestinian terror funds, the book about Harpoon also describes the war on Israel's northern front—the battle against the Hezbollah funds, which began shortly before the Second Lebanon War.

"Harpoon representatives met with their American colleagues in a bid to pressure the Lebanese Canadian Bank and other banks in Lebanon to stop providing services to Hezbollah," Darshan-Leitner says. "But the Americans, fearing that the Lebanese banking system would collapse, refused. The Israeli opportunity arrived when the Second Lebanon War broke out. Dagan asked Prime Minister Olmert for permission to target the banks."

How did he want to target them?

"He wanted to bomb them. He said to Olmert, 'I can't seize their funds, so let's bomb the banks. I'll tell you which branches.' The IDF objected, saying he was insane. 'To waste ammunition on banks?' But Dagan insisted and Olmert agreed, and fighter jets bombed banks in neighborhoods controlled by Hezbollah. They did the 'knock on roof' practice—evacuating the banks and then bombing them.

"It came as a blow to Hezbollah. Their funds were badly effected and so was the banks' information. After the war, Dagan tried to convince the Americans again to cut their ties with the Lebanese Canadian Bank. They refused, and then he asked us if there was a way to sue a Lebanese bank."

And what did you do?

"Without knowing which bank it was, I said that in principle if a bank has branches or activity in the United States, there is a jurisdiction in the United States. There are victims with American citizenship and there is evidence, so it's possible to file a lawsuit. That's always the answer, everywhere.

"We researched the issue and saw that the Lebanese Canadian Bank had no branches in the US, so we had to find out which American bank it works with there. Iran was accused of transferring funds to Hezbollah through this bank in dollars. Harpoon revealed that it's an American Express bank. The evidence was problematic—transfers, deposited sums, which currency, which accounts. The evidence collected by the unit isn't really suitable for a court. We had to find a way to make it accessible to the court so it would be admissible."

How did you deal with it?

"When the American and Lebanese banks filed a request to dismiss the claim, arguing there was no evidence, one of the unit members submitted a deposition to the American court. He specified all the transfers, dates and sums, and said we had personal knowledge of these things. This lawsuit eventually caused the US to outlaw the Lebanese Canadian Bank, impose sanctions on it, launch criminal proceedings against it, order it to pay a $114-million fine, cut all its ties with American banks, and eventually led to its complete shutdown.

"The lawsuit against American Express served as an example for banks doing business with other banks in terror-financing countries. It made them stop working with terrorist elements or charity organizations affiliated with them. They don't need the risk of hundred-of-million-dollar lawsuits from terror victims, and they don't need the bad PR either. They have also halted their activity with places like Gaza or southern Lebanon. There is no longer an international banking system there, because it's clear that it's impossible to keep money in a bank there which won't reach terrorist elements.

It's nice that the private investigator you're using for the trial is an advanced intelligence organization, isn't it?

"It's strange. If there's something that needs to be achieved and they're the only ones who can help achieve it, so yes, that's the road we're taking."

Darshan-Leitner and Katz's book was published in New York in early November by the Hachette Book Group, one of the largest publishing companies in the US, with a written recommendation from former Mossad Director Tamir Pardo and former CIA Director James Woolsey and has been promoted with interviews on Fox News, on radio shows and in an American lecture tour. The book is expected to be translated into Hebrew and published in Israel later on.

Will Harpoon people like the book?

"Of course they will. We interviewed representatives from the unit, the late Meir Dagan, and of course experts on these issues. They told us things, knowing that what shouldn't be told won't be published.

"The book is very positive. It talks about the efforts and sacrifice they made and about the results, as many of their activities actually led to a calm. In Operation Protective Edge, when Hamas members were crying out for payments and salaries, and families were complaining to the Hamas leaders that there was no money at home and the fathers were at the front, Hamas managed to smuggle a money man into the strip with $13 million to pay its people's wages. This man was followed, and when he was in the car with the suitcases, it was hit by a missile. All the dollars went flying and got burned, and so did he. The unit's people said that was one of the things that helped end the war."

This cross-organizational body followed the way outlined by Meir Dagan and slowed down over time, but the activity against terrorism financing continues in its current format. "The book goes right up to 2015, when the unit disengaged from the operations it had done under Dagan. I'm in touch with them, they're still active, but as far as I'm concerned, there isn't anything in the works right now.

"The financial war on terror is a tremendous tool that was invented by Meir Dagan and was later adopted by the world's nations—the Americans and then other Western countries too. It had a huge impact on terror organizations and on the funds that reach them."

Darshan-Leitner was impressed not only by Dagan the professional, but also by Dagan the man. "Sam and I met him at his home in Tel Aviv, a year before his death, and showed him the outline of the book. We asked for his blessing, and he was very excited. He asked us not to publish some of the things we had done, and we agreed.

"We also spoke about other things: current affairs, the State of Israel's situation, what could be done. He was very cautious about all the things related to the activity, but on everything else he offered a lot of knowledge, understanding, insights, criticism on different phenomena and moves. He had a lot of operational plans for the future.

"We found a warm, cordial man, who doesn't spare the rod but also makes plans for the future. Although he was very sick by then, when we asked how he was, he replied: 'Everything is peachy.' You could tell he was a great scholar with a huge amount of knowledge. As a Mossad man, you think he's some kind of a killer, and suddenly you see a literary, cultural person who knows history and analyzes issues. It's surprising."