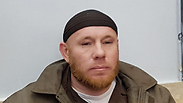 Oleh who converted to Islam, attempted to join ISIS convicted
Valentine Mazlevski, who converted 17 years ago, intended to leave for Turkey, cross border into Syria and join the Islamic State; he was arrested at Ben-Gurion Airport and convicted of contacting a foreign agent, attempting to enter enemy country and obstruction of justice.
The Nazareth District Court convicted 40-year-old Shibli–Umm al-Ghanam resident Valentin Mazlevski of contact with a foreign agent and an attempt to leave for Syria to join the Islamic State (IS). An Israeli Arab was sentenced to almost six years in prison earlier this year for his membership in the Islamic State.

Mazlevski, who made aliyah to Israel from Belarus in 1996 and converted to Islam in 2000, was arrested about a year ago by Shin Bet, which unveiled correspondence he had held with IS officials in Arab countries in preparation.

The Belarusian immigrant was convicted of contact with a foreign agent, an attempt to leave for an enemy state and obstruction of justice.

The court hearing was attended by Mazlevski's mother and children. "I'm very surprised. It's the only son I have. Life will be so much harder for me without him. I hope he isn't punished too harshly because I need him at home. it's hard seeing his wife and my grandchildren without a father. They want him there for them," his mother said.

Mazlevski used the "Khalifat" (Arabic for "caliphate"—ed) group of instant-messaging platform Telegram last year, the indictment said. He expressed his desire to join IS in the group, whose members are IS members and supporters of Russian origin, and was instructed by one activist to arrive to Turkey and speak with him from there so he can assist the Israeli in crossing the border into Syria.

The activist purchased a one-way plane ticket to Turkey on behalf of Mazlevski, but he was prevented from leaving Israel after being questioned by security officials at Ben-Gurion Airport.

Mazlevski in court Wednesday (צילום: שמיר אלבז)

Despite being questioned, however, Mazlevski was not detained and contacted a Muslim of Chechen origin on Telegram ten days later, who then instructed him to delete any content or correspondence having to do with IS from his phone in order to mask his intentions of joining the radical organization.

His interest in the Islamic State only grew stronger, however, and according to the indictment he often watched videos, songs and sermons relating to the organization and joined different social media groups through which he kept in touch with IS supporters and activists in both Israel and the world.

Mazlevski's online activities were not hidden from view of the security establishment, who called him in for questioning in July 2016, during which it was made clear to him the Islamic State was an illegal organization in Israel.

Nevertheless, in October 2016 he had decided to try and leave for Syria again. He contacted a man who called himself "Abu Abdullah" using the Zello messaging app, who then publicized his intention of joining the organization and fighting in its ranks. A month later he contacted another man, "Abu Rakan", who presented himself as an IS activist in Sinai. A short time later Mazlevski was arrested.