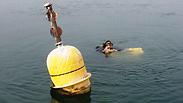 Buoys serenely floating in the Kinneret this week
Photo: Assaf Greenwald, the Agidor company
Kinneret not in danger of drying up, expert says
Winter has come, but scant precipitation raised concerns over the Kinneret's water levels; Kinneret expert says no alarm necessary: 'Harsher droughts have taken place before. Low water levels are not harmful and there will be no shortage of drinking water.'
Prof. Moshe Gofen, one of Israel's leading experts on the Kinneret, said there was no cause for alarm regarding expected low precipitation during the winter months, an expectation that has raised concerns the Sea of Galilee was reaching dangerously low levels.

The torrents of rain hitting Israel earlier this week constituted the first rise in the Kinneret's water level since April.

Prof. Gofen, however, wished to ameliorate concerns on the matter. "The actual danger the Kinneret faces is of a much lower magnitude than is reflected by the national mood surrounding it," he clarified.

"The Kinneret has seen low levels before, and there's no harm in it. People think low levels are an irregular, bad situation, but that isn't the case," Gofen claimed.

As for the possibility of a shortage in drinking water, he noted, "Israel has no cause for concern as far as a supply of drinking water is concerned. The country's drinking water is supplied not by the Kinneret, but through desalinization."

Farmers, however, should be concerned according to the limnology—or the study of inland water—expert. "Now that there's no rain, no water is coming in and the concentration of salinity goes up, which decreases the possibility of using water to cultivate agriculture."

When asked what the possible solution is, Gofen said, "One will come from the heavens, while the other from water. You can't desalinate the waters of the Mediterranean and pump them into the Kinneret, but longer, harder droughts have taken place before and the Kinneret did not dry up."

"There's nothing to fear with the sea's level going down. The Kinneret's future is assured—it exists and will continue to exist," he concluded on an optimistic tone.

The Sea of Galilee nevertheless will not be brought good tidings by the coming days' weather, with little to no rain in the forecast over the weekend.