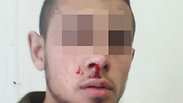 Arab IDF soldier alleges assault by Bedouin comrades
IDF combat soldier of Arab-Muslim descent, member of Bedouin reconnaissance unit, alleges he was assaulted by Bedouin comrades, cursed and threatened by his commander; soldier's father said attack was over son's Arab background; CID investigation underway.
An Arab-Muslim combat soldier from the Gaza Division's Bedouin reconnaissance unit claimed he was attacked Friday morning by Bedouin soldiers serving in his unit and required medical attention. Army's Criminal Investigative Division (CID) opened an investigation into his claims.

The soldier, stationed in an IDF outpost near the Gaza Strip border, said one of his commanders came up to him while he was on kitchen duty and started threatening and swearing at him. Thirty minutes later, the soldier continued his account, he was assaulted by five soldier from the company in which he serves.

The Arab soldier was then taken to the Soroka University Medical Center in Be'er Sheva, and was said to have suffered minor wounds. Nevertheless, he was kept in the emergency room for observation.

The IDF soldier who was allegedly attacked was supposed to enter a military prison during the middle of the week to serve a 34-day sentence for being AWOL (absent without leave) for a month.

One of his commanders visited his family home in northern Israel last month, and promised his relatives he will receive fair treatment after returning to his unit.

After making the requisite preparations to serve his term, however, the combat soldier was informed that due to the jail's overcrowding he will be staying with his unit for the time being and be given administrative tasks.

The soldier's father told Ynet that his son went AWOL as a result of harassment from his fellow soldiers over his Arab-Muslim heritage.

"I did not send my son to contribute so he can be turned into a football that's just kicked around," his father, a resident of the Galilee, said. "We asked for an ambulance to enter the base and take him to the hospital while he was waiting near the entrance gate, but no one came. He was humiliated by his commander and fellow soldiers."

The IDF offered comment on the incident, saying, "The soldier was sentenced to prison for defecting from service two days ago. An initial inquiry turned up the soldier was beaten and independently left the premises without providing details. The division's commander was made aware of the incident and is conducting an inquiry into all aspects of it. He also spoke with the soldier and his father Friday.

"The matter is being investigated by CID and once the inquiry concludes, its findings will be given to the Military Advocate General for review. The IDF handles any instances of violence with the utmost severity, and shows zero tolerance for them."

Two weeks ago a similar incident took place, when a Druze soldier serving in Northern Command's division headquarters was severely beaten—twice—by two of his unit mates.

The attack was racially-motivated, the soldier said, with the two soldiers who beat him refusing to sleep in the same room with him.

The soldiers rejected the allegation, and said he also attacked them. Nevertheless, the pair was arrested and then charged with aggravated assault and battery this week.

Liana Curiel contributed to this report.