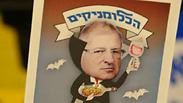 Anti-Likud sign
Photo: Moti Kimchi
For the 58th week in a row, a protest over government corruption was held in Tel Aviv Saturday night against what demonstrators say are delays in the investigation of Prime Minister Benjamin Netanyahu.

Recent reports indicated the findings in one of the cases investigating Netanyahu for receiving bribes will be released in a month and a half, weeks later than previously expected.

One of the protest's organizers, Attorney Eldad Yaniv, lashed out against several protesters he saw waving signs bearing the communist symbol.

"All the idiots who brought signs bearing the hammer and sickle should put them down!" he shouted, telling the other protesters to not let those fringe radicals tarnish what they were striving for.

Thousands held signs saying "Corrupted, go home!" "The nation is boss," "Mandelblit, we will not forgive or forget the cover-up."

"Bibi Netanyahu to prison Masiyahu," "Capital and government equal underworld," "Netanyahu go home! You are a failure," protesters chanted.

Former caretaker of the Prime Minister's Residence Meni Naftali distanced himself from a protester with a sign calling Netanyahu a traitor.

"This is not desirable, every week there is a new provocation and we are not responsible for it," Naftali said. "These are not our guys, there are people who try to sabotage the demonstration, we do not know who is waving these signs and we are condemning any sign that is out of line."

"I have seen tens of thousands of Israeli flags and tens of thousands of people and tens of thousands of Israeli patriots. Do not cherry pick signs calling the government traitors, because this place is not Zion Square," Yaniv added. "There will be no coffin being carried here and there will be no pictures of Bibi in SS uniform."

Idit, a participant told Ynet: "We want all the corrupt (politicians) to learn a lesson, both Left and Right. There is not enough room for them in prison already. This protest is against corruption, not against the Right. I believe that with enough mass, we can succeed in bringing change."

Many participants said that they attended previous protests as well and are resolute to continue until "Bibi will be in prison," using the prime minister's nickname.

This is the 58th consecutive protest against corruption and the fifth held in Tel Aviv on Rothschild Blvd.

In the invitation to the protest, organizers wrote: "Together we will continue this struggle against the corruption that is threatening the state and against the mafia laws they are trying to pass in the Knesset in order to perpetuate the corruption. These protests are for a state free of corruption and every Saturday night participants from all over the political spectrum join us."



Similar but smaller protests were held in Kiryat Shmona, Rosh Pina, Haifa, Kfar Saba, Rehovot, Modi'in, Jerusalem, Beer Sheva and Afula, among others.

This is the first protest since the passing of the controversial Recommendations Law, which bars the police from releasing the findings of their investigations. The bill passed a 59 to 54 vote. Opponents are appealing the law to the High Court of Justice.

Last Saturday night, in addition to the Tel Aviv protest, a right wing protest was held in Jerusalem "in support of the rule of law." About 1,000 participants held signs saying: "We deserve clean government" and "We want a personal example."

Protest organizer Yoaz Hendel spoke: "I'm here today not because I'm against Netanyahu, but because I'm in favor of the State of Israel. I'm here because this is how I was raised in the religious Zionist sector, with a mix of Jabotinsky and Rabbi Kook. I'm here because we cannot live with 'divide and conquer.' We cannot live while my leadership doesn't see the value of setting a personal example and walking humbly."