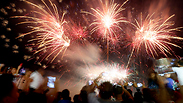 Fireworks on New Year's Eve
Photo: AP
NYC to TLV: world rings in 2018
New Year welcomed across globe, with early celebrations in New Zealand, Australia and Pacific Ocean islands followed by the traditional ball dropping in New York City's Times Square, where thousands gathered despite frigid temperatures; Israelis also celebrate New Year in Jerusalem, Tel Aviv.
Around the world—and in Israel—people gathered early Monday to celebrate the New Year. One of the highlights came, as always, in New York City with the traditional ball drop in Times Square, where thousands gathered despite inclement weather.

The revelers gathered in New York's famous landmark 12 hours before the big moment, braving one of the coldest New Year's Eves the city had ever seen—with a frosty 12 degrees below zero. Only once in history was the New Year welcomed in colder weather—in 1917, when 17 degrees below were measured.

The ball dropping in NYC's Times Square (צילום: רויטרס)

City and state health officials advised people to cover all exposed skin, and wear a hat, scarf and gloves. Drinking alcohol, on the other hand, was discouraged because it causes the body to lose heat faster.

A cold front hit other regions in the US as well. In Ohio, for instance, where some communities saw digit temperatures on Saturday, fireworks have been canceled and events moved inside.

22-year-old Remle Scott and her boyfriend, Brad Whittaker, of San Diego, arrived shortly after 9am, trying to keep a positive attitude as temperatures hovered in the teens. Each wore several layers of clothing. "Our toes are frozen, so we're just dealing with it by dancing," Scott said.

New Year's Eve celebrations in Israel (צילום: מוטי קמחי, אביהו שפירא, גיל יוחנן)

This year, the Times Square ball was 12 feet (3.5 meters) in diameter, weighed 11,875 pounds (5,385 kilograms) and was covered with 2,688 triangles that change colors like a kaleidoscope, illuminated by 32,256 LED lights. When the first ball drop happened in 1907, it was made of iron and wood and adorned with 100 25-watt light bulbs. The first celebration in the area was in 1904, the year the city's first subway line started running.

Celebrations in the US and Europe took place under tight security this year, for fear of terror attacks by the Islamic State and al-Qaeda that promised to carry out attacks to disrupt the festivities. In Germany, people in 2018 under tight security from police mindful of widespread sexual abuse of women in Cologne two years ago and of a terrorist attack on a Christmas market about a year ago.

Police in Berlin added 1,600 officers on duty and said that large bags and knapsacks would not be allowed on the Party Mile leading from Brandenburg Gate, where thousands of people celebrated at midnight. Police in Frankfurt imposed similar restrictions in the celebration area along the Main River in the country's financial capital.

New Year's Eve celebrations around the world (צילום: רויטרס עריכה: גיא פוקס)

Two years ago, New Year's in Cologne was marred by groping and theft committed against hundreds of women, in most cases by migrants. On Dec. 19, 2016, Tunisian asylum seeker Anis Amri drove a stolen truck into a Christmas market in Berlin, killing 12 people.

In the Vatican, in a speech bidding 2017 farewell, Pope Francis has decried wars, injustices and environmental decay which he says have "ruined" the year.

Francis on Sunday presided at a New Year's Eve prayer service in St. Peter's Basilica, a traditional occasion to say thanks in each year's last hours.

He says God gave to us a 2017 "whole and sound," but that "we humans in many ways ruined and hurt it with works of death, lies and injustices."

But, he added, "gratitude prevails" thanks to those "cooperating silently for the common good."

In keeping with past practice, the pope on New Year's Day will celebrate Mass dedicated to the theme of world peace.

Countries on the other side of the globe began ringing in 2018 the earliest, as usual, with the Pacific Ocean island nations of Tonga, Samoa and Kiribati were the first to welcome the new year at 12pm Israeli time, with celebrations kicking off in New Zealand at 1pm with an Auckland fireworks display. Two hours later the countdown was on in Sydney, the world's first major city to celebrate the New Year.

Reuters and the Associated Press contributed to this report.