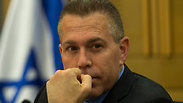 Minister Gilad Erdan
Photo: Amit Shabi
Minister Gilad Erdan called on Likud Central Committee members to attend a special meeting Sunday evening to vote "in favor of free construction in all of Judea and Samaria and in favor of applying Israeli law to Judea and Samaria, so that Jewish residents living there will finally be able to enjoy the Israeli law."

I listened to his words and couldn't believe my ears. Is this Erdan speaking?

Erdan is the minister of strategic affairs. He is in charge of the battle on anti-Israel propaganda. He knows that one of the main arguments made by that propaganda is that Israel imposes an apartheid regime, which applies two separate sets of rules on different populations.

In practice, Israeli law already applies to the settlements and to the settlers. There is a difference, however, between a law that is applied in accordance with the military governor's orders, temporarily, and Knesset legislation. When a demand to apply Israeli law is attached by senior Likud members to a demand for "free construction in all of Judea and Samaria," who needs BDS?

Oddly enough, there is only one person—or almost only one person—who is standing up against this march of folly, and he is likely having trouble understanding the new rebels too. His name is Benjamin Netanyahu. It's not that the prime minister has become a leftist, but he knows exactly what all the Israel-friendly countries are thinking. He also knows that the American administration sees the settlements as serious trouble in need of a stop sign.

Right-wing speakers in general, and Likud speakers in particular, present the current US administration as an ardent supporter of any Israeli whim. President Donald Trump's Jerusalem announcement has increased their appetite. But when it comes to the settlements, it's a major deception.

Trump himself has made clear that going forward with the settlement enterprise harms the peace process, and an official administration statement said that "the construction of new settlements or the expansion of existing settlements beyond their current borders may not be helpful." That was diplomatic language. In practice, the current administration opposes an expansion of settlements just like previous administrations.

The thing is we don't need the American administration, or a peace process which we have lost track of, to know what's good for Israel. International experience makes it clear that mixing hostile populations is a sure recipe for a bloody conflict. The Right is leading us into that exact disaster. The result will be one big state, which be neither Jewish nor democratic, but a bleeding state of conflict. It will be that way even if the Palestinians are given full rights, as the radical left wants and as some right-wing people want, and it will be that way even if the Palestinians have no rights, as others on the Right want.

The 900 Likud Central Committee members signed the demand for the special meeting so they could vote in favor of applying Israeli law and unlimited construction. Senior Likud members believe there is no escape from a further radicalization to the Right, because that's the direction—if not the direction of Likud voters, then definitely the direction of members of the Likud institutions. There is a need for decisions that contradict the prime minister's stance, and mainly contradict the national interest, to satisfy the raging appetite of some Likud Central Committee members for more nationalistic decisions, even if they're anti-national.

There are moments which call for leadership. Gilad Erdan, precisely because of his position, precisely because he is in charge of fighting anti-Israel propaganda, could have been the one to say something about the real national interest. There's no need to adopt the Left's views, but there was a need for a clear statement against the new initiative.

Only several days ago, Erdan received an addition of tens of millions of shekels for fighting the anti-Israel boycott movement. In a foolish decision, Likud decided to give BDS a much more valuable gift.