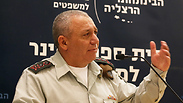 IDF Chief of Staff Eisenkot
Photo: Yariv Katz
Eisenkot: calls for maximal force in Gaza irresponsible
IDF Chief of Staff Eisenkot rejects politicians' criticism of army's response to Gaza rocket fire: 'We've been able to stabilize the situation by utilizing the correct line of policy'; adds Hamas inciting West Bank attacks under guise of lone-wolf terror to maintain Gaza calm.
IDF Chief of Staff Lt.-Gen. Gadi Eisenkot criticized Tuesday politicians accusing the IDF's response to Gaza rocket fire of being flaccid, saying "These statements to respond with maximal force to rocket fire are irresponsible. It is not the right thing to do."

"We can't accept the launch of a single rocket. We're using force in varying degrees (to retaliate). I can't name a single instance where the IDF attacked a non-terror target. The army possesses the best tools," Eisenkot said during a speech at the Herzliya Interdisciplinary Center.

The IDF chief warned that Hamas was attempting to carry out attacks in the West Bank and is enflaming tensions in the region. "Hamas is driven by a desire to keep the Gaza Strip as peaceful as possible while inciting West Bank attacks under the guise of lone-wolf terror based on the Islamic State model," he elaborated.

"It has not been easy the past two years, but we've been able to stabilize the situation there by utilizing the correct line of policy," he added.

Eisenkot also clarified the IDF harbored no intention to allow the precarious situation in Gaza to deteriorate further. "There is a complex reality of two million Palestinians living in severe economic hardship and under the threat of humanitarian collapse. While that has brought Hamas to go to the Palestinian Authority, hat in hand, and seek reconciliation, it also brought about instability."

Regarding Hezbollah, the chief of staff said it has transformed in the past few years from "an organization that is the self-styled defender of Lebanon from Israel to fighting an Iranian proxy war in Syria, Iraq and Yemen. They have lost close to two thousand men, with ten thousand wounded."

Eisenkot further asserted the most significant threat Israel faces is posed in the northern theater, especially from Lebanon. On a related matter—that of the Syrian front—he said a massive Iranian presence could be seen on the ground there.

"There are more than two thousand Iranian experts and close to one thousand Shiite militia fighters there, mostly from Iraq and Afghanistan, along with some 8,000 of Hezbollah's own men," Eisenkot explained.
Disobeying orders is challenging democratic rule
Speaking on IDF conscription numbers and the army's importance as the fighting force of the Israeli people, Eisenkot said, "Our goal is conscription for all; to increase the amount of soldiers conscripting and make the proper adjustments to strengthen the army. There's paramount importance to an army of the people—as opposed to a professional army—in this generation."

Eisenkot also dismissed any claims of religionization in the army, saying, "It's utter nonsense. I can assure you the IDF brooks no policies accepting religionization or exclusion, but attempts to allow everyone to enjoy meaningful service while maintaining their human dignity. That is not conditioned on gender or religion. There are irregularities, but they are outliers."

Referring to former prime minister Ehud Barak's claims that if the government persisted in its agenda, the IDF may disobey orders, Eisenkot said, "We teach our soldiers they are obligated to follow orders, unless they are blatantly illegal. I consider insubordination of any kind a challenge to everything that unifies us as a society.

"I don't envision any officers disobeying orders over a policy disagreement. The IDF's General Staff, the officers—they all understand we are subordinates to the political ranks and act in accordance with the law. You can argue and express a differing opinion, but once the order is given I don't think any officer will disobey an order to challenge the elected government."

Lastly, the army chief explained he viewed petitions disseminated on occasion calling to refuse army service as "creating a difficult problem. We have to say it again: the IDF did not choose to command over the West Bank, but was inserted as a substitute-sovereign there 50 years ago.

"The IDF is subordinated to the government and does not choose its tasks. Anyone wishing to influence its morality should join these units and do their part."