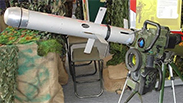 Israel defense company Rafael Advanced Defense Systems Ltd. said Tuesday India had cancelled a $500 million deal less than two weeks ahead of a visit by Prime Minister Benjamin Netanyahu to New Delhi.

The Indian Defense Ministry cancelled a deal to purchase Spike missiles before the contract was signed and despite the company having fulfilled all its requirements.

"Rafael regrets the decision and remains committed to cooperating with the Indian Ministry of Defence and to its strategy of continuing to work in India, an important market, as it has for more than two decades, to provide India with the most advanced and innovative systems," the company said.

Indian media first reported New Delhi's intentions to nix the deal with Rafael in November 2017.

Rafael won the lucrative deal in 2015, after India had opted to buy the Spike missile over the rival US offer of Javelin missiles, built by Lockheed Martin Corp and Raytheon Co.

Spike is a man-portable 'fire and forget' anti-tank missile that locks on to targets before shooting.

As part of the deal, the Indians were supposed to purchase some 8,000 Spike missiles and 300 launchers.

Rafael entered into a joint missile production project with the Indian-based Kalyani Group and the missile manufacturing facility, situated near Hyderabad, was inaugurated this past August.

Rafael did not give a reason for the cancellation. In November, sources within the Indian Ministry of Security told Indian Express the decision pull out of the deal was stemmed from fear that importing such weapons could have a negative impact on the program to develop weapons system by the ministry's Defense Research and Development Organization, which develops weapons in-house for the Indian army.

Meanwhile, India's Defense Ministry said separately it had cleared a plan to buy 131 Barak surface-to-air missiles built by Rafael. The 4.6-billion-rupee ($72 million) order follows up an earlier purchase of Barak missiles, meant to protect navy vessels against sea-skimming missiles and aerial threats.

India is the centerpiece of Netanyahu's initiative to cultivate ties with developing nations that have traditionally supported the Palestinians.

However, India favored the Palestinians by voting in support of a UN resolution last month denouncing the Trump administration's recognition of Jerusalem as Israel's capital.

Netanyahu hosted India's prime minister last year and he is set to visit India later this month, on January 14.

Adrian Filut and Reuters contributed to this story.