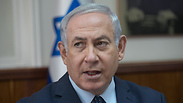 PM Netanyahu
Photo: Ohad Zwigenberg
Netanyahu: With no majority, supermarkets bill vote will be postponed
With coalition MK Moti Yogev and opposition MK Yossi Yonah missing due to passing of family members and Yisrael Beytenu leader Lieberman steadfast in his refusal to support the contentious bill, the coalition is once again struggling to muster up majority.
Prime Minister Benjamin Netanyahu said that if the coalition can't secure a majority to pass the supermarkets bill in time for the vote on Monday, it will be postponed.

"It is my understanding we're still waiting for an answer from the opposition about vote-offsetting for MKs Moti Yogev (Bayit Yehudi) and Yossi Yonah (Zionist Union)—and I want to express my condolences for the loss of their loved ones," Netanyahu said at a Likud faction meeting.

"We are also preparing for the budget, and this won't prevent us from passing it in the government on Thursday and then passing the budget and Arrangements Law in the Knesset, so we could do good things," Netanyahu added.

MK Moti Yogev's mother passed away, while MK Yossi Yonah lost his brother only a month after losing his father. Both—the former a member of the coalition and the latter a member of the opposition—will miss the vote as they are sitting shiva (the Jewish seven-day mourning period) over their family members.

Vote offsetting is a common practice in the Israeli parliament, according to which a member of Knesset who cannot attend an important vote reaches an agreement with a lawmaker on the other side of the aisle that they would both not vote.

Defense Minister Avigdor Lieberman, meanwhile, reiterated on Monday that his Yisrael Beytenu Party—which is part of the coalition—will vote against the contentious legislation, which seeks to give the interior minister authority to strike down municipal bylaws, including those permitting some businesses to operate on Shabbat.

"We won't allow for any offsetting on the matter and vote as we have voted so far," Lieberman said at a party meeting. "It's important to stress that the people who shop at supermarkets on Shabbat are the same people who work hard all week, pay taxes, serve in the IDF and do reserve duty.

"It is simply absurd to close everything on Shabbat."

Several cities have made efforts in recent weeks to head-off the bill by amending municipal bylaws to effectively allow the opening of stores and shops on Shabbat even if the bill is passed.

Rishon LeZion, Givatayim and Modi'in have already approved such amendments.

Expressing his support of this initiative, Lieberman noted its nonpartisan appeal.

I was happy to see that a large number of mayors who are leading the struggle against the supermarkets bill are Likud members," he said, reiterating that his party will support them in their struggle by making their "best efforts to prevent the bill from passing."

Yesh Atid Chairman MK Yair Lapid reiterated his opposition to the bill, claiming Netanyahu buckled under the pressure of the ultra-Orthodox just as he does with everyone else.

"The ultra-Orthodox come to our homes and tell us how to behave and how to be. They turn Shabbat into an issue that causes quarrels and conflicts," he asserted.

"I have respect for Judaism; it's part of my life. (But) I have no respect for ultra-Orthodox coercion such as this. Netanyahu bends to anyone who passes by him. Lieberman wants to kill terrorists? Check. Amsalem wants funding for the primaries? Check. All at the expense of Israeli citizens."

Zionist Union Chairman Avi Gabbay criticized the Likud for their unwavering support of the bill, ridiculing their self-proclaimed platform as a "National Liberal Movement"

"What exactly is national about the supermarkets bill? Interfering with individual freedom? And what exactly is national in that the powerful chain stores will be left open while the small corner stores, owned by small business owners, will be shut down? And what exactly is national in that only someone who owns a car can reach the stores (on Shabbat)?" he asked.

"I can tell you that Netanyahu's eloquence is in sharing favors, though I never understood what pushed him to act here against the interests of the public. He needs to stop the pretence."