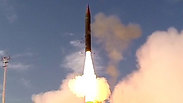 Arrow-3 test
Photo: Defense Ministry
For the second time in recent weeks Israel has called off a test of an advanced missile defense system, the exoatmospheric Arrow-3, citing a communications malfunction.

The Defense Ministry said in a statement on Wednesday that the cancellation of the Arrow-3 trial "has no impact" on already operational Arrow-2 and Arrow-3 missile defense systems.

Arrow-3 test (צילום: דובר צה"ל)

Another test is scheduled to take place in the coming weeks or months, at Palmahim Air Force Base in central Israel.

In December, 2017, the launching of the Arrow-3 interceptor missile at Palmahim Air Force Base was canceled after the Sparrow target missile, launched into space from an F-15 fighter jet over the Mediterranean Sea, did not respond as expected in the plan.

"The target did not meet the predefined safety standards and the project engineers announced 'no test,'" said a source in the defense establishment. "We will investigate why the target behaved erratically."

Arrow-3 is part of the multi-layered system Israel is developing to defend against both short and mid-range rockets fired from the Gaza Strip and Lebanon, as well as Iran's long-range missiles.

The current version of the Arrow 3 is intended to take on long-range ballistic missiles, which are capable of carrying nuclear payloads, such as those currently in development in Iran.

It was developed by Israel Aerospace Industries and US aviation giant Boeing, and became operational in January 2017.

Moshe Patel, head of Israel's missile defense arm, said that had "an Iranian missile" been launched at Israel, the Arrow-3 system would have still been used to intercept it.