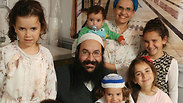 Rabbi Raziel Shevah with his family
Calls of 'revenge' made during terror victim's funeral
Hundreds accompany Rabbi Raziel Shevah, murdered in a drive-by shooting attack, to his final resting place in the outpost of Havat Gilad; 'Our enemies think they could make us abandon the land. We crush their hopes by becoming stronger, building communities and having children,' says Minister Bennett, whose eulogy was interrupted by calls for revenge.
Hundreds of people accompanied Rabbi Raziel Shevah, who was murdered in a drive-by shooting attack near the outpost Havat Gilad, as he was laid to rest on Wednesday afternoon.

Shevah was buried in a special plot dug for him in the illegal outpost of Havat Gilad and is the first to be buried there.

Education Minister Nafatli Bennett eulogized Shevah. "You had the heart of a husband, a father and an educator. You also had the heart of someone who saved lives. The lighthouse was damaged, but its light has not been put out," he determined.

"You are the pioneers of Havat Gilad, the real heroes who are holding onto the land and building our country. Our enemies think they could make us abandon the land. We crush their hopes by becoming stronger, building communities and having children. You are doing your duty. Now it is the politicians' turn to do ours," Bennett added.

While Bennett was speaking, he was interrupted by Hilltop Youth who called out "revenge!" They were silenced by the head of the Samaria Regional Council Yossi Dagan.

In his own eulogy, Dagan spoke of Rabbi Shevah's volunteer work with the community, organizing a Hanukkah competition for children, and with Magen David Adom, saving many lives.

"He was murdered because he was a Jew living in the Land of Israel," Dagan said, vowing that "the people of Israel will never break."

Dagan again called on the government to act. "Mr. Prime Minister, we demand that you fully recognize Havat Gilad as a community in the State of Israel today. Defense Minister, we demand that you approve 1,000 housing units ... here in Havat Gilad. This is what would decrease motivation for terrorism," he asserted.

Agriculture Minister Uri Ariel continued in the same vein, saying "Prime Minister, we have the possibility of speeding up these actions, and we must do it today. We shouldn't have gotten to this point. But now that we have, we are all obligated by it."

Jerusalem's Chief Rabbi Shlomo Amar praised Rabbi Shevah's life work. "He was involved in a wide range of activity, always smiling and joyous. When you see that, you realize he was an angel coming from the heavens to do holy work," Rabbi Amar said.

"To our enemies I say: don't think you've broken us. We're crying not because we're broken, but because we sanctify life," he added.

Also attending the funeral were former minister Eli Yishai, Israel's Chief Rabbi David Lau and Samaria Rabbi Elyakim Levanon.

Raziel, who worked as a mohel (who performs the circumcision of babies) and volunteered in Magen David Adom (MDA), was murdered in a drive-by shooting near Havat Gilad. He is survived by his wife, Yael, and their six children: Renana, 10, Naomi, 8, Miriam, 6, Malka, 5, Ovadia, 3, and Benayahu, only 10 months old.

Itay Zar, one of the founders of Havat Gilad (which is named after his late brother), told Ynet that Rabbi Shevah has expressed desire to be buried at the outpost—even though there is no cemetery there. "His wife Yael decided unequivocally that she wanted him to be buried here. This is where they live, this is their place," Zar said.